Im Mai waren Sometree bereits einmal in Frankfurt zu Gast. Da jedoch in der Jahrhunderthalle und lediglich als Support für die Briten von Snow Patrol. Nun also wurden die Karten völlig neu gemischt: Anstatt Freunde zu erspielen wurden Freunde bespielt und die Location wurde selbstverständlich dem Rahmen entsprechend auch gewechselt.
Ob der neue Veranstaltungsort der Band gerecht wurde, sei jetzt erst einmal dahingestellt. Fakt ist, dass das Bett vor wenigen Monaten von Sachsenhausen ins Frankfurter Gallusviertel gezogen ist und für viele die Anreise dadurch nicht leichter wurde. Von Leuten, die die neue Wirkungsstätte des Betts nicht einmal gefunden hatten, war da sogar die Rede. Letztendlich hatten sich etwa 50-60 Zuschauer im Bett eingefunden und während diese den Club in Sachsenhausen gut gefüllt hätten, verloren sie sich in dem doch recht großen und neuen Raum sehr.
Lediglich an der neuen Lage kann man die geringe Zuschauerzahl jedoch nicht festmachen. Erschwerend kam hinzu, dass für die Region ein nicht unerhebliches Sportereignis am gleichen Abend stattfand: Die Eintracht aus Frankfurt hatte die Bayern im Rahmen eines DFB-Pokalspiels zu Gast. Da man auch locker 200.000 Karten für das Spiel hätte verkaufen können und viele vor der Mattscheibe festklebten war klar, wo potentielle Musikgenießer geblieben waren. Mal abgesehen davon, dass – hinsichtlich des Ergebnisses – die Meisten im Nachhinein wohl lieber auf das (Trauer-) Spiel verzichtet hätten.
Nichts desto trotz war das Bett fußballfreie Zone, als schließlich mit Honour Before Glory die musikalische Unterstützung für die Jungs aus Hannover auf die Bühne kam. Hinter diesem Namen verbirgt sich Whiskas, der ganz nebenbei auch noch in Bands wie iForward Russia!, Duels oder auch Mi Mye tätig ist. Große Namen, die aber leider im Endeffekt zu viel versprachen. Fingerfertigkeit bewies der junge Mann durchaus an der Gitarre und auch stimmlich war das oftmals sehr rund, aber irgendwie fehlte der letzte Schliff. In seinen Liedern wurde stets ein Spannungsbogen aufgebaut und kurz bevor man auf die große Ekstase hoffte, flaute es plötzlich ab. Das mag ja zwei oder drei Mal ganz interessant sein, aber auf Dauer war es dann doch nicht meins. Nichtsdestotrotz ein sehr sympathischer Kerl, der aber in seinen anderen Combos doch ein wenig besser aufgehoben zu sein scheint.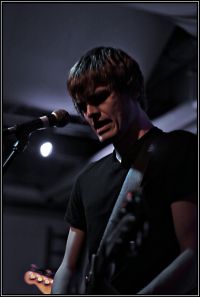 Blieben also noch
Sometree
. Hatten mir im Vorprogramm schon immens gut gefallen und auch dieses Mal war alles in Butter. Mit
Yonder
kam vor kurzem bekanntlich ihr fünftes Studioalbum auf den Markt, was den Nachfolger zu ihrem durchschlagenden Werk
Bending the willow
markierte. Und im Grunde genommen lag auch auf genau diesen beiden Alben das Hauptaugenmerk der Show (plus hier und da ein wenig von
Moleskine
).
Die vier Herrschaften hatten sich relativ schnell mit der mangelnden Zuschauerpräsenz abgefunden und so wurde im Grunde genommen das Material strikt heruntergespielt und hier und dort ein paar kurze Ansagen zu den einzelnen Liedern gemacht. Nun ja, "weniger quasseln" bedeutet ja immer auch ein stückweit "mehr spielen" und somit ging das letztendlich voll in Ordnung. Die Songs wurden in gewohnter Brillanz und Komplexität dargeboten und füllten den Raum hervorragend dort, wo Leere herrschte. Sänger Bernd machte sowohl am Gesang, als auch an der Gitarre und Klavier eine mehr als gute Figur und das Dargebotene stand dem auf Platte in absolut nichts nach.
Dem Publikum schien es zu gefallen und so wurden Sometree nach einer knappen Stunde für weitere zwei Lieder auf die Bühne zurück geholt. Das überragende "Seraph" gab es obendrauf und mit "Hands and arrows" wurde der Abend schließlich beschlossen.
Letztendlich ein wirklich sehr gelungener Abend in einem wirklich sehr schick neu eingerichtetem Bett im Frankfurter Gallus. Guter Sound, schöne Setlist und mit Alex Pavlidis gab es den wohl am stilvoll nickendsten Bassisten überhaupt zu sehen.