In Marburg geht ja konzerttechnisch immer so einiges. So auch wieder gestern Abend im Café Trauma. Die Kasseler Jungs von xGracex spielten zusammen mit Break Through und The Fa für nur schlappe 6 Euro auf. Da kann man eigentlich ja nicht viel falsch machen und somit war der Freitagabend schon mal ausgebucht.
Obwohl der Beginn für 20.30 Uhr angesetzt wurde, schien man es mit der Anfangszeit im Trauma nicht wirklich so genau zu nehmen.
xGracex stehen um diese Uhrzeit noch am Kicker und die erste Vorband krebst auf der Bühne herum, um die Insrumente aufzubauen bzw. zu checken. Um 21.20 legen The Fa aus Gießen dann quasi mit 50 Minuten Verspätung los: Sehr schicker, energiegeladener Hardcore, der nicht zuletzt dank der nicht deplaziert wirkenden Sängerin stark an Walls of Jericho erinnert. Sehr schick. Die Band ist übrigens in den nächsten Monaten nochmal in Hanau, Wetzlar und auch in Gießen (als Sirens-Support!) zu bestaunen. Sollte man sich durchaus mal geben.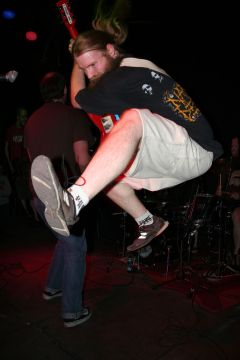 Nach 20 Minuten ist dann erstmal Schluss und
Break Through
machen sich für ihren Auftritt bereit. Geboten wird schicker Youthcrew-Hardcore aus Münster, der leider nach ganzen 14 Minuten aufgrund von Stimmproblemen des Sängers beendet werden muss. War trotzdem ziemlich in Ordnung, was den knapp 150 Zuschauern da präsentiert wurde.
Der Hauptact xGracex spielte sein Set im Anschluss ziemlich souverän runter. Hauptsächlich Lieder vom aktuellen Werk "The Calling" und ein ordentliches Minor Threat-Cover rundeten den Abend ab. Nach einer halben Stunde war dann alles vorbei, da eine Disco, die im Anschluss stattfinden sollte, die Spielzeiten extrem einschränkte. Aber für 6 Euro kann man da nicht wirklich meckern.