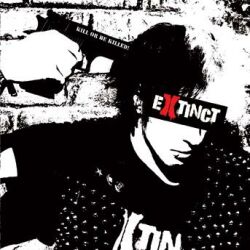 Die Anzahl der Bands, die aus dem beschaulichen und kleinen Land Luxemburg stammen und die mir bekannt sind bedarf keiner Erwähnung. Ich kenne nämlich keine einzige aus dem 500.000-Seelen Großherzugtum. Nun ja, das ist ja jetzt Geschichte - denn nun kenne ich Extinct. Die Jungs machen rotzigen Streetpunk und stehen jetzt mit ihrer zweiten Platte in den Startlöchern.
Der Beipackzettel zur CD liest sich schon ein wenig seltsam: Da treffen sich 2001 5 Jungs, von denen einer halbwegs Gitarre spielen kann und gründen eine Band. Nun ja, die bösen Vorahnungen hatten sich letztendlich nicht bestätigt: Die Jungs (mittlerweile sind es nur noch 4) können alle halbwegs passabel mit ihren Instrumenten umgehen und das stellen sie auch auf "Kill or be killed" unter Beweis.
Das Album ist mit 50 Minuten eigentlich recht lang für eine gängige Streetpunk Platte ausgefallen und so knüppelt sich die Band in 15 Liedern ordentlich einen ab. Die handelsüblichen 3 Akkorde und der Singalong-Stempel dürfen da natürlich auch nicht fehlen. Wer neues und revolutionäres sucht, dürfte bei Extinct an der falschen Stelle sein. So revolutionär die Texte auch gemeint sein mögen - musikalisch ist das kalter Kaffee, wenn auch noch recht passabel im Geschmack.
Nach 8 Liedern fragt man sich zum ersten Mal wann der erste richtige Knaller anlaufen würde, doch diese Frage stellt man sich im Endeffekt auch noch bei Lied 15. Zwar sind die Songs an sich nicht schlecht, jedoch gibt es keinen bei dem man besonders aufhorcht. Insgesamt aber ein recht passables Produkt, was die Jungs da abliefern.
Bleibt nur zu hoffen, daß "Kill or be killed" auf ein breites Gehör stößt und manch einer da draussen die Platte kauft. Das Potential haben die Jungs definitiv und gute Ansätze sind auch dabei und ich wünsche auf jeden Fall viel Erfolg für die Zukunft.
Skull Records Vertrieb: Radar
www.myspace.com/extinctpunx