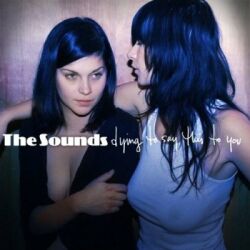 Schweden: Etwas über 9.000.000 Einwohner, die sich über eine Fläche von knapp 450.000 km² und nebenbei noch über ca. 221.800 Inseln verteilen. Teures Bier und schöne Frauen, wie jeder weiß.
Doch es gibt noch weitere Aushängeschilder des Landes: Im Süden des Landes liegt die Provinzstadt Helsingborg, in der sich 1998 die Band The Sounds zusammenfand um sich durch das Musizieren ein wenig den Alltag zu verschönern. Nachdem 2003 die erste Platte "Living in America" in die Läden kam wurde nun das zweite Werk der Truppe um Maja Ivarsson auf den Markt gebracht und der Longplayer fleht nur so darum auseinandergenommen zu werden. Na dann mal ran ans Eingemachte!

The Sounds, das sind eingänginge Rock-Songs, gepaart mit Elektro-Pop und einer weiblichen Stimme. Was bereits auf dem Erstlingswerk hervorragend funktionierte, wird jetzt fortgesetzt. Jedoch dürfte sich die Band mittlerweile eine recht ordentliche Fangemeinde erspielt haben, nicht zuletzt durch die Tatsache, daß die 5 Mitglieder bereits die Ehre hatten die Foo Fighters im Vorprogramm unterstützen zu dürfen. Als ob das noch nicht genug wäre, ließ es sich Mr. Dave Grohl himself nicht nehmen im Musikvideo zu "Times like these" ein T-Shirt des Schweden-Fünfers zu tragen. - Na wenn das mal nicht Werbung auf höchster Ebene ist!
Den Anfang macht die Videoauskupplung "Song with a mission", die zu einem der besten Stücken des Albums gehört. Eine Bassline am Anfang, die Gitarre setzt ein und letztendlich knallt einem das "Hey!" von Mrs. Ivarsson ins Gesicht. Gute Laune komprimiert auf knapp 3 Minuten. Warum eigentlich nicht? Weiter geht es mit "Queen of apology" - auch schön, macht dort weiter, wo Numero Uno aufhörte und entpuppt sich ebenfalls als Ohrwurm. Es folgt "Tony the Beat", dem eine ordentliche Prise Synthesizer hinzugefügt wurde. Weniger gitarrenlastig wie die ersten beiden Stücke, aber immer noch ganz ordentlich. "24 Hours" fängt wie ein schmachtender Emo-Song an, bekommt aber schnell die Kurve und geht ordentlich ins Ohr. Bis jetzt hat sich die Truppe noch keinen Fehltritt erlaubt - mal schauen was noch so kommt. Mal schauen: Oh, "Painted by numbers". Ebenfalls eines der stärksten Tracks des Albums und wieder ein Refrain, der sich als wahrer Ohrwurm entpuppt. Ziemlich genial, wie die Band es schafft den Spagat zwischen Pop, New Wave und Punk-Rock hinzubekommen. Respekt! Während sich mit "Night after night" eine Ballade anschließt, wird bei "Ego" wieder losgebrettert. Das Keyboard macht den Anfang, die Gitarre steigt ein und schon ist man wieder dem Kopfnicken verfallen. Der Refrain wieder ein Wurm in meinem Ohr - man wartet scheinbar vergeblich auf einen Ausrutscher. "Don´t want to hurt you" und "Much too long" gehen ebenfalls in Ordnung, während dem Hörer bei "Running out of turbo" das bestialische "Hey,hey,hey!" von Maja Ivarsson entgegenschlägt. Offiziell wäre jetzt schluss, aber da 10 Tracks schon recht mager sind, hat man gleich nochmal einen 'Hidden Track' draufgepackt: "Night after night" - dieses Mal in der Rockvariante. Geht mehr als in Ordnung und schließt ein rundum gelungenes Album ab! Dass der Produzent von The Killers bei diesem Album seine Finger im Spiel hatte, ist jedoch mehr als auffällig - Gott sei Dank!
Im Großen und Ganzen ein mehr als gelungenes Album. Eine schöne Symbiose aus vielen Musikstilen und wer mit Blondie was anfangen kann ist bei The Sounds vollkommen richtig!
www.the-sounds.com