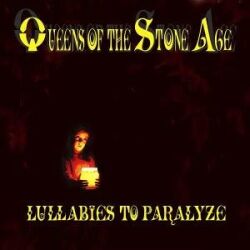 Nach zweieinhalb Jahren langen Wartens ist es nun soweit! Queens Of The Stone Age kehren mit ihrem 4. Album in die Musiklandschaft zurück und legen ein vollkommen gelungenes Werk hin, welches für jeden Qotsa - Fan ein Genuß sein sollte.
Die neu formierte Truppe um Josh Homme, Troy Van Leeuwen und Joey Castillo zeigt sich auf der neuen Scheibe verstärkt romantisch und ruhig, bleibt jedoch dem straighten Rock, sowie der gewohnten Schrägheit der Vorgängerplatten treu. Den Anfang auf dem mit 14 Tracks ausreichend gefütterten Werk macht kein Geringerer als Mark Lanegan, der auch schon beim Vorgänger "Songs for the deaf" an der Gitarre mitspielte und einige Vocalparts zusteuerte.Nach dem ruhigen Opener legt dann Josh Homme himself am Gesang los und mit "Mediaction" folgt ein genialer und mitreissender Tanzflächenfeger, den man aber breits vor der Veröffentlichung von "Lullabies to paralyze" bestaunen konnte. Anschliessend reiht sich mit "Everybody knows that you´re insane" ein Hammerbrett ein, welches man sicherlich als Wink mit dem Zaunpfahl in Richtung Nick Oliveri sehen kann ("You wanna know why you feel so hollow? Because you are.You're missing out?Well if you say so then you're missing out...").
Bei "Burn the witch" steht ZZ - Top-Mann Billy Gibbons dem Qotsa-Gitarristen zur Seite, während bei "You´ve got a killer scene there,man..." Joshs Freundin und Distillers-Frontfrau Brody Dalle, sowie Garbagehead Shirley Manson mit von der Partie sind und einige Vocals beisteuern.

Die Video-und Singleauskopplung "Litte sister" ist für mich persönlich der Übertrack des Albums:Kuhglocken,ein eingängiger Riff und ein genialer Text dienen als Erfolgsrezept und wollen einem einfach nicht mehr aus dem Kopf gehen. Mit "Someone´s in the wolf", "In my head" und dem chilligen "I never came" lässt sich die Liste der Hits auf dem Album beliebig fortsetzen. Queens Of the Stone Age haben es tatsächlich mal wieder geschafft die Zuhörerschaft in Extase zu versetzen und Josh Homme scheint die Kreativität und Lust am Musizieren scheinbar nicht auszugehen. Und das ist auch verdammt gut so!