Dass der Mousonturm in Frankfurt immer mal wieder für einen guten Bandfang zu haben ist, weiß man ja nicht erst seit den Arctic Monkeys oder The Rapture. Passend dazu hat sich am 30. September diesen Jahres auch Eddie Argos mit seiner Band Art Brut in den frivolen Mousonturm eingefunden. Im Gepäck hatte der gute Mann von der Insel 2 Alben, 4 Bandmitglieder und 2 Vorbands. Gute Voraussetzungen also für einen schönen Sonntagabend!
Leider kamen wir erst zum Ende der zweiten Vorband in der Halle an. Auf die Indelicates hatte ich mich ziemlich gefreut und umso enttäuschender war es, dass ich nur noch die letzten zwei Lieder 'Julia, we don´t live in the 60s' und 'Heroin' mitbekam. Die Stimmung war verhalten, man schien die Band größtenteils nicht recht einordnen zu können und so spielten sie ihre Lieder souverän und gediegen herunter. Jedoch wurde hier schon klar, dass mit dem Sound etwas nicht stimmen konnte. Die Befürchtung, die sich nach meinen letzten Mousonturm-Besuchen breit gemacht hatte, schien also einzutreten. Blieb nur zu hoffen, dass man das Problem bis zum Hauptact in den Griff bekam.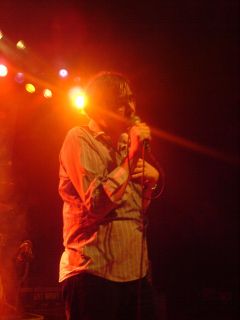 Als Art Brut schließlich mit 'Pump up the volume' die Bühne betraten gab es in den ersten Reihen kein Halten mehr: Es wurde getanzt, gesprungen und ordentlich mitgesungen. Die Band war sichtlich erfreut und so reihte sich nach und nach ein Hit an den anderen. 'Bang, bang, Rock n Roll', 'Sound of summer', 'Modern Art', 'St.Pauli' und und und. Die Zuschauer waren durchweg extrem textsicher und Eddie Argos, wie immer ohne Schuhe auf der Bühne, mimte einmal mehr den Entertainer deluxe, während Gitarrist Jaspar mit einem Shakira T-Shirt stilsicher Flagge zeigte. Zwar wurde fast jedes Lied mit dem immer gleichen Satz "The next song is about..." eingeleitet, jedoch machte er dies mit zwischenzeitlichen Seilspringeinlagen und Ausflügen durchs Publikum wieder wett.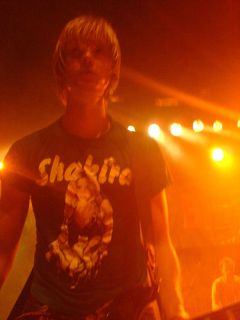 Nach und nach verging man sich an den alten Klassikern der ersten LP und spickte die Setlist zudem mit fast allen Hits des neuen Albums. Mit 'Nag, nag, nag' verabschiedete man sich nach einer guten Stunde von dem Frankfurter Publikum, um mit 'Pepole in love', 'Direct hit' und 'Good weekend' noch 3 herrliche Zugaben zum Besten zu geben.
Alles in Allem also ein wirklich hervorragender Auftritt der Argos-Combo. Traurig jedoch, dass sich die anfänglich beschriebenen Soundprobleme absolut nicht in den Griff bekommen ließen und der Gesang in den ersten Reihen teilweise einfach unterzugehen schien. Dies tat der Stimmung jedoch absolut keinen Abbruch und somit machten sich die Zuschauer des Spektakels durch die Bank hinweg geschiwtzt und glückselig auf den Weg nach Hause.