Bad Religion, eine Band, die von mir immer ein wenig vernachlässigt wurde, schuld daran warennicht zuletzt, die sich wirklich stark ähnelnden Songs. Doch auf dem Konzert in der Frankfurter Batschkapp fand ich erstmal heraus, wieviel ich von den kalifornischen Alt-Punkrockern wirklich gut kannte.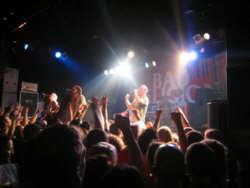 Aber immer schön der Reihe nach.
Ob man es glaubt oder nicht, aber der Sommer ist Mitte August doch noch mal aus seiner Urlaubsresidenz zurückgekommen und bedachte die wartenden Fans mit feinster abendlicher Sonnenbestrahlung. Aus diesem Grund tummeln sich um halb neun auf dem Vorplatz der "Kapp" noch eine ganze Menge Leute. Wir gönnen uns, im Auftrag des Sensationsjournalismus, keine Pause und schlüpfen gleich mal in die Halle.

Drinnen ist es noch verhältnismässig leer, dennoch schon übertrieben warm. Als Support dienen die Berliner von ZSK, hatte vorher noch nie von dieser Band gehört und bin nach deren Auftritt auch nicht unbedingt traurig darüber. Wie die Jungs es in das Vorprogramm von Bands wie "Anti-Flag", "Agnostic Front" oder aber jetzt Bad Religion geschafft haben, bleibt mir ein Rätsel. Standardpunk mit typischen Punkaussagen gegen Politiker, Nazis und für Rebellion. Kann mit solcher "Wir sind dagegen, weil wir dagegen sein müssen"-Mucke überhaupt nichts anfangen. Bleibt den vier Musikern nur zu wünschen, dass ihre 30€ Shirts nicht von den besungenen Wasserwerfern besudelt werden. Jaja, the revolution will be merchandised. Einige öde Songs und noch öderen Ansagen später ist der Spuk glücklicherweise zu Ende, immerhin gab es eine recht annehmbare Coverversion von "No woman, no cry".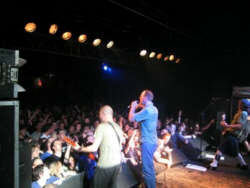 In Erwartung auf den Hauptact ist die Batsche jetzt bis in den letzten Winkel mit schwitzenden Fans gefüllt. Das "The Empire strikes first" Backdrop wird runtergelassen, ein paar Umbauten und schon betreten Greg Graffin und seine leicht ergraute Band die Bühne und legen nach der "Overture" mit "Sinister Rouge" gleich richtig los. Ab da zieht es die gesamte Batschkapp in den Strudel. "Sorrow", "Epiphany", "Sanity", "The Defense", "Los Angeles is burning", "21 Century Digital Boy", "No Control", "Join us", "Let them eat war", "Recipe for hate", "Suffer", "Do what you want"...was da an Hits abgefeuert wurde sucht seinesgleichen. Greg Graffin (der die Texte anscheinend auch auf Lautsprache vorträgt, hehe)und besonders Bassist Jay Bentley, beide in Partnerlook, scheinen richtig Bock auf das Konzert zu haben und bewegen sich auf der Bühne als ob sie für den nächsten Marathon trainieren wollten.

Ansagen kommen nicht oft, aber dann nur intelligent und leicht ironisch. Graffins beliebtestes Thema ist unser neuer Papst und das Alter der Band. Ansonsten lassen die fünf ihre Musik für sich sprechen und ballern pausenlos ein Lied nach dem anderen raus. Das Publikum feiert jeden Song frenetisch mit, singt auf die vertracktesten "ohohohohoahahahah"-Chöre sicher und fehlerfrei mit, was stellenweise für Gänsehaut sorgt.

Als sich auch das letzte Stückchen Stoff im Raum mit Schweiss vollgesogen, sich jeder auf seine eigene Art und Weise ausgetobt hat, verlässt die Band die Bühne, um kurze Zeit später mit drei Zugaben, von denen zwei der "Punk Rock Song" und "American Jesus" sind vollends von der Bühne zu verabschieden.
Zurück bleibt ein positiver Eindruck über eine etablierte Band, die trotz des Alters und ihres Erfolges immernoch Bock auf Musik hat. Die Energie, die von den fünf Kaliforniern ausgeht findet man nicht alle Tage. Fettes Konzert.