Nach 8 Jahren Abstinenz von deutschen Bühnen war es am 22. August dieses Jahres mal wieder soweit für Social Distortion.Im Gepäck hatten die Jungs aus Orange County die Backyard Babies und Cooper als Support.
Als ich gegen halb 9 am Schlachthof eintraf war es bereits rappelvoll und die Parkplatzsituation war eher bescheiden.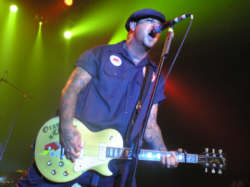 Glücklicherweise konnte ich meine Kiste auf dem großen Schlachthof-Parkplatz abstellen und wartete bis um 9 Uhr um mich musikalisch noch etwas in Stimmung zu bringen und nicht den halben Abend an der Schlange vorm Eingang zu verbringen.Im Schlachthof selbst war dann jedoch ebenfalls die Hölle los und man hatte das Vergnügen zuerst gegen eine enorme Hitze- und Menschenwand zu rennen.

Unverschämterweise fingen Cooper dann erst gegen 22 Uhr an zu spielen (Einlass war um 20 Uhr) und konnten sich wirklich keine Freunde machen.Der Sound war Ok,aber musikalisch doch eher etwas unpassend zu Social D. und den Backyard Babies.
Folglich machte ich mich noch einmal zu meinem Auto auf,um etwas zu trinken und kam dann gegen viertel vor 11 pünktlich zu den Backyard Babies, die eine enorm geile Show ablieferten.Denen konnte man die Spielfreude richtig anmerken und die Songauswahl war ebenfalls gut gelungen."Earn the crown","A song for the outcast" und "Minus celsius" vom neuen Album wurden gezockt und die Menge ging höllisch ab und feierte die Truppe beinahe wie den Headliner selbst.Überzeugend und geschafft verliessen sie nach knapp 45 min die Bühne und die Masse machte sich bereit für SD.

Nach einer relativ kurzen Umbauphase ging der Orkan um halb 12 mit "Reach for the sky" los.Es folgten "Highway 101","Under my thumb" und "Mommys little monster".Eine dermaßen geile Stimmung hab ich im Schlachthof selten gesehen.Hände gingen Paarweise nach oben,Bierbecher flogen und ein sehr gut gelaunter Mike Ness tat sein Bestes.Im Laufe des Abends verging man sich zudem an Hits wie "Sick boys", "I wasn´t born to follow" (mit anti-Bush Ansage...)"Dont drag me down","Prison Bound","Story of my life" und vielen anderen Hochkarätern.Nach einer Stunde verliessen sie dann die Bühne um anschliessend den Zugabe-Rufen Folge zu leisten.Nach 2 weiteren Liedern machte ich mich dann auf dem Weg zum Auto um noch den Luxus des stressfreien Ausparkens in Anspruch zu nehmen.Glücklich,beeindruckt und geschafft machte ich mich dann auf den Rückweg ins gute,alte Hanau.