"They´re a fantastic live-band. Come to their gigs when they´re in Germany – you won´t regret it." Diese Worte des Lobes stammen nicht etwa von einem Musikmagazin, sondern von der britischen Sängerin Kate Nash, die den Höhenflug, den das Duo aus Brighton zur Zeit erlebt, bereits hinter sich hat. Benzol hat diese Aussage einmal auf ihren Wahrheitsgehalt überprüft und war für euch beim Konzert im Frankfurter Cookys dabei.
Nachdem die Blood Red Shoes in der letzten Zeit in Deutschland eher als Support fungieren durften, war nun also mal eine kleine Headlinertour durch Europa dran. Mit dem neuen Album "Box of secrets" im Gepäck beehrte man am 14. Januar das Publikum im Rhein-Main Gebiet.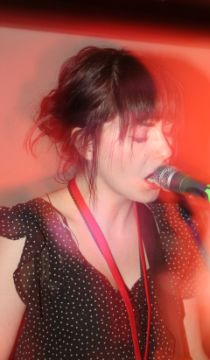 Im gefühlt ausverkauften Cookys sollten die deutschen Jungs von
Herrenmagazin
als Vorband für die Briten einheizen. Um 20 vor 10 kam die Truppe auf die Bühne und erinnerte vom musikalischen her sehr an Elfmorgen aus Hanau. Sogar die Stimme ähnelte der Spaßkapelle aus dem Rhein-Main Gebiet – jedoch waren die Texte durchweg ernster, teilweise melancholisch und gepaart mit einer gewissen Priese Sozialkritik. Durchaus ein ordentlicher Auftritt, der im Gedächtnis bleiben dürfte.
Nach 40 Minuten war dann schluss und die Umbaupause für den Hauptact zog sich scheinbar ewig in die Länge. Als es dann um viertel vor 11 mit "It´s getting boring by the sea" losging war das Publikum jedoch nicht mehr zu halten. Auf der Tanzfläche war ordentlich Bewegung zu verzeichnen, der Sound kam sehr ordentlich rüber und sowohl Sängerin Laura-Mary als auch Drummer Steven schienen den Augenblick sehr zu genießen. Das Hauptaugenmerk der Songlist lag auf dem neuen Album und so wurden Lieder wie "I wish I was someone better", "Try harder" und "You bring me down" frenetisch und unter großem Applaus abgefeiert. Leider war für uns um kurz nach 11 schon alles vorbei, da wir den Zug nach Gießen noch bekommen mussten. Letztendlich hatten sich diese 20 Minuten aber mehr als gelohnt. Eine absolut sympatische Kapelle in einem für solche Zwecke perfekten Club. Was will man mehr?