Als der letzte Ton gespielt und die letzte Strophe gesungen wurde, machte sich in einem Bürogebäude im Frankfurter Stadtteil Rödelheim völlige Glückseligkeit breit. Schuld daran war John K. Samson, Sänger und Texter der Weakerthans, der mit Gitarre und Stimme bewaffnet kam, um die Anwesenden in ihren emotionalen Grundfesten zu erschüttern.
Der Ansturm auf das Konzert war schon vor Beginn des eigentlichen Events enorm. Die zuvor errichtete Bestuhlung wurde am Abend noch komplett herausgenommen, um dem Zulauf den benötigten Raum zu verschaffen. Eine Entscheidung, die sich als durchaus klug herausstellte, da schon zum Supportact die Hazelwood Studios mehr als ordentlich gefüllt waren.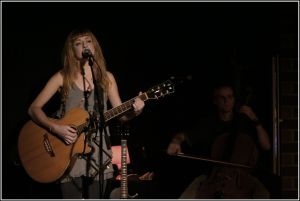 Dieser stand gegen viertel nach 9 in Form von
MissinCat
auf der kleinen Yellowstage. Manch einer konnte sie einige Wochen zuvor schon als Vorgruppe von
The XX
an anderer Stelle in Frankfurt erleben, wo sie mir zwar durchaus auffiel, aber nicht langfristig im Gedächtnis blieb. Warum weiß ich eigentlich gar nicht so wirklich. Wie dem auch sei: In Rödelheim gefielen mir Sängerin/Gitarristin Caterina, sowie ihr Cellist wesentlich besser. Gespielt wurden ausschließlich Songs vom aktuellen Erstlingswerk "Back on my feet" und zu den jeweiligen Stücken gab es zuvor immer erheiternde und niedlich akzentuierte Ansagen der italienischen, aber mittlerweile in Berlin lebenden Musikerin. Schöne 30 Minuten und nach Konzerteröffnungen für
Amy Winehouse
,
John K. Samson
und bald auch
Darren Hanlon
wäre eine kleine Headlinertour auch mal was Feines.
Nach etwa 15-minütiger Umbaupause wurde schließlich
John K. Samson
auf das Frankfurter Publikum losgelassen. Während sich zuvor noch einige fragten, ob er überhaupt ein Stück von den
Weakerthans
spielen würde, wurde gleich zu Beginn die Marschrichtung vorgegeben: Mit drei Stücken seiner Hauptkapelle aus Winnipeg ging es ins Programm, wobei Gesang, Musik und Texte
sowohl Männlein als auch Weiblein vor der Bühne die Tränen in die Augen trieben. Stücke wie
"Left and leaving", "Plea from a cat named Virtute" (mit Katzenschnurren im Hintergrund) oder "One great city" wurden in einer unglaublichen Brillanz vorgetragen und vor der Bühne von einige textsicheren Weakerthans-Fans lautstark mitgesungen. Natürlich schafften es auch einige Stücke von seiner
Little Pictures EP
ins Programm und mit "Heart of the contintent" stellte er ein zweites Mal seine besondere Beziehung zu seiner Heimatstadt vor.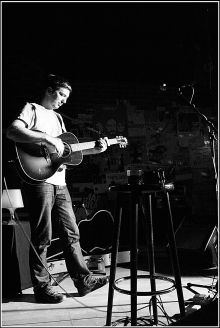 Die Luft war mittlerweile aufgrund einer fehlenden Lüftungsanlage kaum noch zu ertragen. Obwohl ein Fenster ganz geöffnet war und ein Ventilator lief, kämpften viele mit der Entscheidung Getränke holen zu gehen, um im Gegenzug einen guten Sichtplatz einzubüßen. Als John schließlich für einen Song den Ventilator ausstellte und sich fernab des Mikros vor das Publikum stellte, um ein Stück komplett ohne Strom zu spielen, war die stickige Luft jedoch völlig vergessen.
Gänsehautatmosphäre. Da er ohne Setlist und ohne wirkliches Konzept auf der Bühne erschien, war nach einer Weile auch für die Besucher ein Wunschkonzert angesagt. Mit "Everything must go" erfüllte er vielen einen Herzenswunsch und auch das geforderte "Pamphleteer" wurde geschmettert.
Nach etwa einer Stunde und ein wenig Konfetti hier und dort verließ John zum ersten Mal die Bühne der Hazelwood Studios, kehrte aber schnellstmöglich wieder zurück um noch weitere zwanzig Minuten für die knapp 200 Anwesenden zu spielen. So fand schließlich ein Abend ein Ende, der einem die zuvor unbändig gehegte Lust auf Winnipeg zunichte machte und im Gegenzug die von mir zuvor wenig beachteten Weakerthans in neuem Licht erstrahlen ließ. Danke dafür, John!