Samstagabende sind im Gießener AK eigentlich immer eine relativ runde Angelegenheit. Entweder locken Elektroparties oder ausufernde Konzerte das Publikum aus Mittelhessen und darüber hinaus an. Und in der Regel dauert es lang. So lang, dass bei Konzerten der letzte Ton schon einmal erst um halb 4 Uhr morgens gespielt wird. Der letzte Samstag mit Ritual, Tackleberry und zig andere Bands stand jedoch ganz im Zeichen sonntaglicher Frühaufsteher.
Um 19 Uhr war Einlass. Da viele Bands auf der Liste standen auch eigentlich eine ganz gute Überlegung. Wir kamen jedoch erst um 21 Uhr an und verpassten somit gerade die letzten Akkorde von Escalation. Naja, somit war Annotation die erste Band für uns an diesem Abend und für eine knappe halbe Stunde gabs von den Jungs sehr ordentlichen Hardcore aus Westfalen auf die Ohren. Waren zwar schon einige Leute da, aber vor die Bühne traute sich noch keiner so wirklich. Kräfte schonen? Verständlich.
Im Anschluss dann der erste bekannte Name auf bzw. vor den Brettern: Deny Everything aus Köln. Ganz großer Hardcorepunk mit etwas mehr Bewegung und Textsicherheit seitens des Publikums. Knapp 30 Minuten gabs auch für die Domstädter, die zeitweise in positiver Art und Weise an die Shook Ones aus Amiland erinnerten.
Spätestens bei
Tackleberry
waren dann alle wach. Die Nordlichter gingen dermaßen ab, dass es eine wahre Freude war ihnen zuzuschauen. Amüsante Ansagen von Sänger "Hammer" und über die Musik muss man im Grunde auch keine Worte mehr verlieren. Schicker Hardcore-Punk, der an dem Abend den Nerv vieler getroffen zu haben schien. Können echt gerne wieder kommen und wurden auch dementsprechend abgefeiert.
Interessant war auch zu hören, dass die meisten Bands an diesem Abend bereits zuvor schon einmal
im AK gespielt zu haben schienen. Alle konnten da jedoch nur eine Handvoll Leute vor die Bühne locken und umso schöner, dass das Gesamtpaket dieses Mal für ein volles Haus sorgte.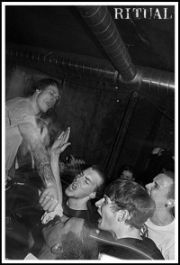 Für den krönenden Abschluss sorgten dann gegen viertel vor 12 Ritual aus Recklinghausen. Mit der aktuellen Scheibe Beneath aging flesh and bone am Start ging es auch gleich mit dem Überbrett "Nation of flies" los. Vor der Bühne für AK-Verhältnisse massig Bewegung, ordentlicher Kampf ums Mikro und nach einem Lied schon wieder Schluss. Gitarre hinüber, eine Band konnte aushelfen und so ging es flott weiter im Programm. So ziemlich das komplette Album heruntergespielt und zwischenzeitlich noch einige Stücken der Wolves-EP eingestreut: Sehr, sehr geiler Auftritt und für viele auch zu Recht die Band des Abends.
Abschließend also ein rundum gelungener Abend mit viel Musik und Ohrenpfeifen. Solche Bandpakete für ein Wochenende zu buchen, scheint stets zu laufen und auf das Nächste darf man bereits gespannt sein.