Vom 27. bis 28. Juni fand in Montabaur das zweite Mach1-Festival seiner Geschichte statt. Benzol war am Freitag mit von der Partie und hat für euch mal einen Tag in das junge und frische Musikevent reingeschnuppert.
Das Mach1 Festival in Rheinland-Pfalz zog an diesem Wochenende wieder einmal einige Zuschauer vor die Bühnen. Den Anfang sollten am Freitagnachmittag zwar Brutal Polka aus Israel machen, jedoch wurde ihr Beginn auf den späteren Teil des Abends verschoben. Folglich durften Staatspunkrott das zweitägige Festival auf der Hauptbühne einläuten. Die vier Jungs legten in 40 Minuten ein ordentliches Punkrockset hin, welches jedoch noch nicht für feiernde Menschenmassen vor der Bühne sorgen konnte. Während sich bei All its grace im Anschluss ein ähnliches Bild vor der kleinen Bühne abzeichnete, gab es bei Shai Hulud auf der Hauptbühne wenig später das erste Mal gereckte Hände und Moshparts. Das Publikum war weitestgehend Textsicher und die Truppe schien das Eis zwischen Musikern und Publikum zum ersten Mal an diesem Wochenende brechen zu können. Sehr solider, 50 minütiger Auftritt der Amis.
Besonders lobend ist an dieser Stelle das Bühnensystem des Mach1-Festivals hervorzuheben. Sobald eine Band ihren Auftritt beendet hatte, legte die nächste Band auf der quasi nebenan liegenden Bühne los. Somit ging keine Zeit verloren und die Umbauphasen konnten für das abchecken anderer Bands genutzt werden. Ein System, was auch hervorragend aufging. Bei Never face defeat machte ich mich kurzzeitig zum Auto, um anschließend pünktlich zu Madball wieder an der Bühne zu sein. Großartiger Auftritt der NY-Veteranen um Freddy Cricien. Viele gute, alte Knaller wie "Set it off", "Hold it down", "Can´t stop won´t stop", "Fall this time" und "Demonstrating my style" wurden mit Tracks des neuen Albums "Infiltrate the system" gepaart. Dem Publikum schien es zu gefallen und die anfänglich doch recht üblen Soundprobleme wurden im Laufe des Sets behoben.
I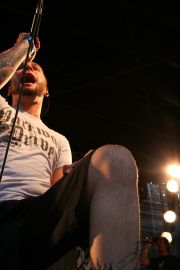 m Anschluss erfreuten sich
Tiny-y-son
auf der kleinen Bühne äußerster Beliebtheit. Obwohl die Truppe aus Norddeutschland angereist war, hatte es zeitweise den Anschein als würde es sich für sie um ein Heimspiel handeln. Mächtig Bewegung vor der Bühne, textsicheres Publikum und strahlende Gesichter. Letztendlich ein sehr souveräner Auftritt der Söhne aus Bremervoerde.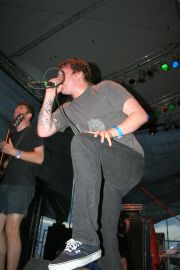 Comback Kid
hatten im Anschluss leichtes Spiel. Eine Stunde lang durften sich die Kanadier auf der Bühne austoben und jagten nach und nach die Hits ihrer drei Alben in die Menge. Auch hier war der Sound zu Beginn mehr als grenzwertig, wurde jedoch im Laufe des Sets in den Griff bekommen. Im Vordergrund standen Songs von ihrem Durchbruchalbum "Wake the dead" und ihrem aktuellen Longplayer "Broadcasting". Dem Publikum waren die Lyrics von Comeback Kids scheinbar durchweg ein Begriff und spätestens als mit "Wake the dead" der Gig sein Ende fand, ging vorne gar nix mehr. Großes Kino.
Die Umbaupause wurde schließlich mit dem nachgeholten Auftritt von Brutal Polka auf der kleinen Stage gefüllt. Sehr lustiger Auftritt, den ich mir jedoch nur kurz anschauen konnte.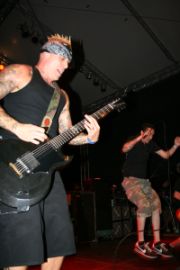 Der Auftritt für Lou Koller´s Truppe
Sick of it all
war im Anschluss eigentlich nur noch reine Formsache. Seit über 20 Jahren spielen die New Yorker Legenden auf allen Bühnen dieser Welt und die Souveränität war auch an diesem Abend wieder einmal spürbar. Eine Mischung aus altbewährten und neuen Hits wurde vom Publikum dankend in Empfang genommen. Müdigkeit merkte man den Jungs auf der Bühne zu keinem Zeitpunkt an. Energiegeladen wie eh und je wurden Songs wie "Good lookin´out", "Scratch the surface", "Built to last", "Disco sucks fuck everything", "Step down", "Us vs. them", "Call to arms", "Take the night off", "Just look around", "Sanctuary" "Machete" und "Die alone" abgebrannt. Nach über einer Stunde inklusive Zugabe war der erste Tag des Mach1 Festivals vorbei. Aus persönlichen Gründen musste ich bereits an diesem Abend meine Abreise antreten, die gesammelten Eindrücke waren jedoch durchweg positiv. Der Sound war – bis auf zwei Aussetzer – durchweg in Ordnung, genügend Ess- und Trinkstände mit humanen Preisen vorhanden und der Eintrittspreis mit 15 Euro (Tageskarte) erschwinglich gewesen. Für ein Festival, welches noch in den Kinderschuhen steckt, eine reife Leistung.