Jimmy Eat World. Motion City Soundtrack. Sparta. Vla. Wochenende. Grachten. Kroketten. Das sind viele gute Gründe um sich auf die Reise nach Amsterdam zu machen. Nachdem in das gute alte Etap-Hotel eingecheckt wurde ging es gleich Richtung Veranstaltungshalle.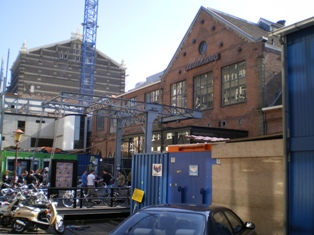 Schauplatz des Festivals war der altehrwürdige Melkweg (sprich: Melkwäch) im Herzen Amsterdams. Diese Lokalität besteht aus einer größeren Halle, dem sogenannten Max, und einer kleineren Halle, dem Oude Zaal. In diesen beiden Sälen wurde paralell gespielt.
Nachdem die Besichtigung des Amsterdamer Rotlichtviertels abgeschlossen war, wurde MXPX als erste Band in Angriff genommen. Diese amerikanische Punkband, die schon seit über einem Jahrzehnt im Geschäft ist, erinnerte stark an Green Day und konnte mit solidem Punkrock bestimmt einige Fans gewinnen. Außergewöhnlich herausragend war der Auftritt jedoch nicht.
Da Petrus es ziemlich gut meinte, brannte die Sonne nur so vom Himmel herab und nach MXPX musste ein Bier im Hard Rock Cafe, direkt an einem der vielen schönen Flüsschen gelegen, getrunken werden. Nach dieser gelungenen Abwechslung ging es zum Auftritt von Motion City Soundtrack.
Durch myspace und Konsorten vorgewarnt stellte ich mich auf Pop-Punk mit Keyboardeinschlag ein. Der auffälligste Akteur war der Herr an den Tasten, da dieser den ganzen Auftritt über mit technischen Schwierigkeiten zu kämpfen hatte. Und wenn dies mal nicht der Fall war turnte er auf (!) seinem Keyboard umher. Mit "Everything Is Alright" und "LG FUAD" spielten sie ihre größten Hits und auch das Publikum wurde langsam warm. Guter Auftritt.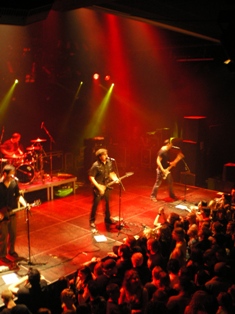 Es gab eigentlich keinen Grund den großen Saal zu verlassen, da sich hier Geheimtipp an Geheimtipp reihte. Aber so ein Geheimtipp kann auch schon mal ein Schuss in den Ofen sein. Das beweist die Band Mindless Self Indulgence. Was war das? Emo-Alternative-Metal-Techno? Könnte hinkommen. Das Ganze ähnelte Panic At The Disco in ganz, ganz schlecht. Wie kann sowas bei myspace 330.000 Freunde gewinnen. Manchmal wird aus Kot eben Gold. Da will ich kein Wort mehr darüber verlieren. Höchstpeinlich auch noch wie der total überdrehte und aufgesetzte Sänger nach dem Konzert noch den Emogirls Autogramme auf den Bauch schrieb. Go home. Danach war erstmal ein leckeres Heineken an der Theke von Nöten.
Ein Abstecher in den kleinen Konzertsaal wurde mit einem Auftritt der Voodoo Glow Skulls belohnt. Nur kurz gesehen, aber für guten Ska-Punk befunden. Und wieder rüber in den großen Saal, denn hier wartete Sparta auf. Diese Band mit Überbleibseln von At The Drive In brachte das Kunststück fertig mit "Threes" auf Platz 1 der Visions-Jahrescharts zu kommen, ohne dass das Album, aufgrund schlechter Labelpolitik, überhaupt in Deutschland erschienen war. Grund genug sich diese Band einmal näher zu Gemüte zu führen. Und es sollte sich lohnen. Der Sänger Jim Ward brachte mit seiner Stimme das ein oder andere Mal eine Gänsehaut, weil der schreien und einen Druck hinter seine Stimme bringen kann ohne nur irgendwie übertrieben zu klingen. Auch wenn die neuen Songs von "Threes" teilweise etwas poppiger sind, können sie vollends überzeugen. Vor allem "Taking Back Control" mit seinem doppelstimmigen Refrain wird ein Tanzflächenfüller werden. Konsequenz des Auftritts: Amazon.de – Album kaufen. Exzellent.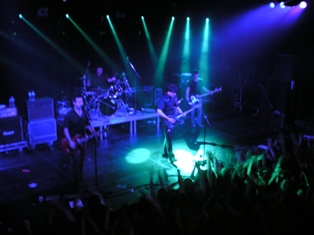 Als Headliner und letzter Gig des Abends warteten Jimmy Eat World auf. Und auf die wartete das bis dahin sehr unterkühlte Publikum sehnlichst. Mit "Bleed American" wurde losgelegt und die Band spielte sich durch die ganze Bandgeschichte. Vor allem das epische "Goodbye Sky Harbour" und "A Praise Chorus" sind hervorzuheben. Und auch die neuen Tracks, von dem hoffentlich bald erscheinenden neuen Longplayer, namens "Big Casino" und "Electable" gefielen. Da bin ich mal sehr auf die Studioaufnahmen gespannt. Alles in allem ein exzellenter Auftritt mit einem gut aufgelegten Jim Adkins. Aber das ist von dieser Ausnahmeband auch nicht anders zu erwarten.
Dann war es auch schon vorbei. Noch ein paar Bier in der Kneipe und ab ins Hotel. Sehr gelungen war das Ganze. Ärgerlich ist nur, dass Sonntags kein Vla verkauft wird…