Die Freude war groß - unbeschreiblich groß - als man es zum ersten Mal lesen konnte: The Sounds kommen ins Nachtleben zu Frankfurt. Allein die Vorstellung, diese Kapelle in diesem kleinen Kämmerchen zu erleben, führte zu Freudensprüngen der besonderen Art. Nachdem aber die gewaltige Nachfrage dazu führte, daß das Konzert recht früh ausverkauft war, entschied man sich dazu den Gig in die "etwas" größere Batschkapp zu verlegen.
Schade, schade. Aber was solls? Hauptsache sie kommen und bringen noch ordentlichen Support mit. Auf der Speisekarte standen neben den Shiny toy guns auch Under the influence of giants und somit war schon im Voraus für ordentlich Abendprogramm gesorgt. Leider kann ich zu beiden Vorbands so gut wie nichts sagen, da ich mich während ihrer Spielzeit noch im Aussenbereich der Halle aufhielt. Von Under the influence of giants bekam ich lediglich noch 'In the clouds' mit und dies reicht bereits um zu sagen, daß sie definitiv eine großartige Liveband und einen angemessenen Support für das, was noch kommen sollte, darstellten.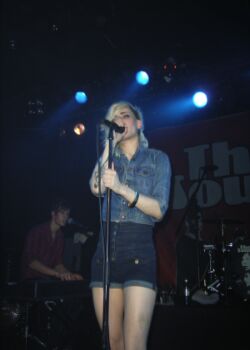 Nach einer scheinbar ewig dauernden Umbauphase war es schließlich soweit: The Sounds enterten die Bühne und legten mit 'Painted by numbers' los. Während im hinteren Bereich noch ordentlich Platz war, gab es vor der Bühne kein Halten mehr. Gehüpfe, geschreie, Ekstase. Von da an verschwimmen die Erinnerungen und man fand sich in Mitten eines Trance-ähnlichen Zustandes wieder. Es reihte sich Hit an Hit und das Publikum verstand es sich zu bedanken: Fast alle Lieder wurden lautstark mitgesungen und die Geißel der Textsicherheit schien alle im Griff zu haben.
Es folgten 'Queen of apologies', 'Hit me', 'Tony the beat', 'Seven days a week', 'Ego' und noch viele weitere Schinken aus dem hohen Norden. Zugaben gab es auch die ein oder andere, aber man mag mir verzeihen, daß ich mich nicht mehr an jedes Detail erinnern kann. Ein Grund dafür war wieder einmal Sängerin Maja, die der kompletten Männerbelegschaft und sicherlich auch einigen weiblichen Besucherinnen erneut den Kopf verdrehte. Da es sich um eine "all-ages" - Show handelte war sie vergleichsweise zugeknöpft, aber allein die Präsenz führte dazu, daß mit Sicherheit das ein oder andere Herz an diesem Abend gebrochen wurde. Gelegentliche Ausflüge auf die Hände des Publikums dürftem so manchem Fan noch den Rest gegeben haben.
Fazit: Großes, großes Kino gepaart mich einem noch größeren Spaßfaktor. Der Umzug in eine größere Location war mit Sicherheit aus logistischer Sicht ein feiner Zug und tat der Stimmung an diesem Abend absolut kein Abbruch. Zurückgelassen wurden - soweit ich das beobachten konnte - reihenweise glückliche Besucher.