Letztes Jahr warfen die Herren von The Rapture mit "Pieces of the people we love" ihr zweites LP-Werk auf den Markt und konnten mit dieser Platte sowohl im Indie- als auch im Elektrobereich für Erstaunen sorgen. Mit dem Knaller 'House of jealous lovers' gelang ihnen bereits 1998 der Durchbruch und nun war es soweit: Die 4 Jungs um Luke Jenner machten sich mit ihrem neuen Werk auf nach Frankfurt in den stilvollen Mousonturm. Dann mal nichts wie hin!
Der Einlass war für 21 Uhr angesetzt und bereits zu diesem Zeitpunkt hatte sich der ein oder andere Musikliebhaber vor der Konzertstätte eingefunden. Von einer Vorband schien keiner etwas zu wissen und so kam es dann auch: Um viertel vor 10 betraten die New Yorker die Bühne und legten mit 'Out of the races and onto the tracks' los. Dies sollte auch das einzige Lied bleiben, was nicht von den beiden Erfolgsalben "Echoes" und "Pieces of the people we love" stammen sollte. Das bunt gemischte Publikum begann verhalten und man schien die Band erst einmal auf ihre Livequalitäten abzuchecken.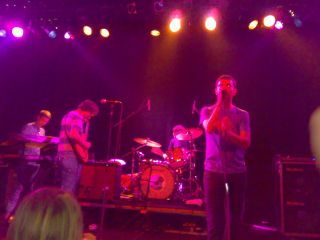 Und die waren wirklich überzeugend. Die Stimmen von Frontmann Luke und Bassist Matt ließen so gut wie keinen Unterschied zu den Gesangsleistungen auf Platte erkennen und generell schien sich die Band musikalisch absolut sicher zu sein. Einzig die laut abgemischten Instrumente führten dazu, daß die Gesangsleistungen der Beiden teilweise ein wenig untergingen. Nach und nach wurden Knaller wie 'Get myself into it', 'Sister savior', 'Pieces of the people we love' und 'The devil' in Richtung des Publikums gefeuert. Die Stimmung schien von Lied zu Lied besser zu werden und spätestens bei 'Whooo!Alright...' wurde dann auch herrlich getanzt. Dass anschließend gleich der Knaller 'House of jealous lovers' hinterher geschoben wurde war nur eine logische Konsequenz. Stimmung halten war angesagt.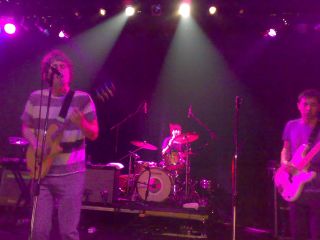 Mit 'Echoes' und 'The sound' ging es schließlich in die Pause und nach lauten "Zugabe"-Rufen machten sich The Rapture wieder auf die Bretter, um mit 'Don go do it', 'First gear' und 'Olio' dem Abend nach 70 Minuten ein Ende zu setzen. Großartig. Die anfänglichen Befürchtung, daß sich der Auftritt zu einem Publikums-Stehkonzert entwickeln könnte wurde nicht bestätigt und der ein oder andere Besucher ging ordentlich geschwitzt aus der Halle.
Letztendlich also ein richtig geniales Konzert mit einer Band, die ihre Musik souverän und mit Herz darbieten kann und einem Publikum, was dies auch zu schätzen wusste.
Ps.: Das Vorurteil, Männer seien nicht multitaskingfähig, wurde an diesem Abend nebenbei auch noch entkräfigt: Keyboarder Gabriel zeigte nämlich eindrucksvoll, wie man mit der einen Hand Saxophon spielen und ganz nebenbei noch den Synthesizer oder Apple-PC bedienen kann. Gut, daß wir das auch mal geklärt hätten.