Das diesjährige Southside-Festival stand schon zu Beginn unter keinem guten Stern: Beim Aufbau der Zeltbühne wurde ein Sanitäter getötet und ein weiterer schwer verletzt. Glücklicherweise entschieden sich die Veranstalter letztendlich doch dafür das Wochenende noch mit Musik zu füllen und das Festival nicht kurzerhand abzusagen. Dies zwar mit der Konsequenz, dass 1/3 der Bands nicht spielen konnten, jedoch stand somit einem ereignisreichen Wochenende im Süden der Republik nichts mehr im Wege.
Bereits am Donnerstag Nachmittag zeigte sich, dass sich viele von dem Ratschlag des Veranstalters, erst am Freitag anzureisen, nicht beirren ließen und somit war schon gegen Abend ein Großteil des Campingeländes mit Festivalverrückten aller Art gefüllt. Die ersten körperlichen Reserven wurden mit Alkohol verballert und hier und da zeigten sich bereits Probleme mit den Stimmbändern. Soweit also alles wie immer. Das Wetter schien zu halten und über die Horror-Voraussagen diverser Wetterdienste wurde nur gelacht.
Am Freitag morgen war jedoch den meisten Besuchern eben jenes Lachen vergangen: Es schüttete aus Eimern und manch einer musste einen Graben um sein Zelt ziehen, um dieses nicht nach einem Toilettengang auf dem Flugfeld wiederfinden zu müssen. Glücklicherweise hatte der Veranstalter jedoch mitgedacht und an mehreren Stellen des Zeltgeländes Holzstreu ausgelegt, womit die gröbsten Pfützen beseitigt werden konnten. Leider hatte sich dies recht schnell herumgesprochen und so war nach einer knappen halben Stunde von dem Holzvorrat nicht mehr allzu viel übrig. Manch einer war ganz schlau und graste die Metropole Tuttlingen nach Gummistiefeln ab und als Folge dessen war bereits zur Mittagszeit in dieser nah gelegenen Stadt der komplette Vorrat an Fußpanzern ausgeschöpft. Bezeichnend. Viele ließen sich von der Matschwüste jedoch nicht stören und somit wurde mancherorts ein Schlammbad genommen - sehr zur Freude der vielen Schaulustigen.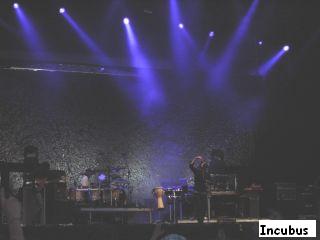 Am späten Nachmittag betraten schließlich die Herren von Sugarplum Fairy die Bühne der Green-Stage und entlockten dem feuchten Publikum den ein oder anderen Sprung gen Himmel. Als dann noch die Sonne herauskam und 2 Regenbögen am Himmel erschienen, wurde umso mehr abgefeiert. Sehr solider Auftritt der Jungsprösse, die anschließend gleich von den reifen Herren der Manic Street Preachers abgelöst wurden. Sehr, sehr geiler Aufrtitt. Viele schöne Lieder gespielt und mit 'If you tolerate this, your children will be next' den obligatorischen Festivalvogel abgeschossen. Auch nach über 20 Jahren noch nicht müde, löblich! Im Anschluss kamen Incubus auf die Bühne und spulten ihr Erfolgsrezept nach und nach herunter. Viele Fruchtblasen platzen auf der Tanzfläche und der mehr als grottige Sound schien keinen zu stören. Da schien der Soundtechniker entweder auf dem Dixie-Klo eingeschlafen, oder beim Gummistiefelkauf in Tuttlingen versackt zu sein. An sich aber ein solider Auftritt der Band und eine ziemlich befriedigende Songauswahl. Gut gestimmt ging es also weiter zu den Editors, die ja zur Zeit mit einem herrlichen neuen Album aufwarten können. Ihr Auftritt gehörte für mich auch mit zu den Besten des Wochenendes. Wirklich bewundernswert, wie die Gruppe um Tom Smith die herrlichen Plattenqualitäten auf der Bühne noch einmal um ein vielfaches toppen konnte. Wieder einmal wie so oft großes Kino von der Insel.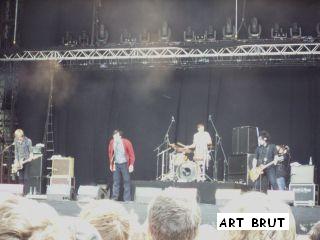 Der nächste Tag wurde bereits um die Mittagszeit gestartet. The Rakes spielten auf der Green-Stage und legten einen beachtlichen Auftritt hin. Die Jungs sind Ende des Jahres auf Tour in Deutschland. Sollte man sich auf jeden Fall anschauen. Im Anschluss direkt Art Brut, die ihr neues Album im Gepäck hatte und wirklich herrlich anzuschauen war. Stilvoll wie immer gekleidet, interessante Ansagen auf den Lippen und dazu noch Knaller wie 'Bang, bang Rock'n'Roll', 'Emily Kane', 'Direct Hit', 'My little brother' usw auf den Lippen. Das Publikum war erfreut, die Stimmung herrlich und nach einer dreiviertel Stunde war schluss. Am Abend gab sich dann Juliette Lewis mit ihren LicksSonic Youth im Anschluss spielten ihr Set auch souverän runter, jedoch kann ich mich aufgrund meines mittlerweile stark geleerten Tetrapacks nicht mehr an alles erinnern. Schade! Placebo hatten im Anschluss ähnlich wie Incubus leichtes Spiel mit dem Publikum: Viele Mädels starrten sehnsüchtig gen Bühne und mit dem herrlichen "Running up that hill" konnte Mr. Molko auch mich vollends glücklich machen. Doch auch hier schien der Soundtechniker mal wieder einen Abstecher in Richtung Toilette gemacht zu haben.
die Ehre auf der Bühne und eine ganze Menge Leute hatte sich vor der Bühne versammelt. Ihr Promibonus kam ihr scheinbar durchaus gelegen. Sexy Show, sexy Songs und das rundum sorglos Paket war geschnürt. Die abfällige Bemerkung "Ihr findet die doch nur gut, weil die so enge Leggins trägt" von 2 Mädels aus dem Publikum wurde mit einem "Nicht nur, aber das trägt schon viel dazu bei" quittiert.
Vielleicht hatte er sich ja auch mittlerweile gänzlich verabschiedet. Gummisteifel umtauschen, oder so. Wer weiß. Der Knaller des Tages wartete anschließend mit den Dropkick MurphysQueens of the Stone Age zu begutachten, die wieder auf der bereits für ihren großartigen Sound berüchtigte Green-Stage aufscheppten. Sound war wieder einmal breiig, aber als mit "Feel the good hit of a summer" eingestiegen wurde, war sowieso kein Halten mehr möglich. Nach und nach wurden vor allem die Lieder des neuen Albums "Era Vulgaris" zum Besten gegeben und auch der ein oder andere Hit von "Songs for the deaf" schaffte es in das Programm. 90 Minuten Vollgas und ein gut gelaunter Josh Homme auf den Brettern, die die Welt bedeuten - herrlich! auf der Blue-Stage. 75 Minuten absoluter Sinnesverlust und Massenpogo. Sowas geniales hab ich auf dem Southside auch noch nicht erleben dürfen. Der Alkohol schien manchen Zuschauer zu absoluten tanzlichen Höchstleistungen zu treiben und die Band staunte ordentlich Bauklötze. Top Songauswahl und wie immer gut gelaunt wurden zahlreiche Tanzflächenknaller zum Besten gegeben und am Ende blieb eine zerstörte Menge zurück. Als letzte Band des Abends gab es dann die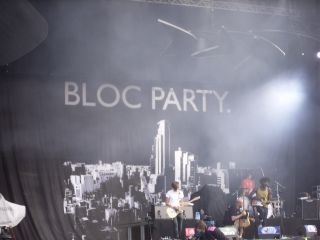 Der letzte Tag bekann ähnlich wie der Samstag. Mittags versammelte man sich um mal wieder den herrlichen Darbietungen von The Sounds zu lauschen. Die üblichen Lieder wurden gespielt und wieder einmal wurden grinsende Männer zurückgelassen. Sängerin Maja hatte ihren Job erneut zur Zufriedenheit aller Anwesenden gut gemacht und einen bleibenden Eindruck hinterlassen. Modest Mouse gaben im Anschluss ihr Stelldichein auf der Blue-Stage und Sänger Isaac Brock schien nach seiner Flaschenattacke wieder auf dem Dampfer zu sein. Ein schöner Queerschnitt aus den verschiedenen Alben der Bandgeschichte wurde geboten.
Anschließend luden Bloc Party auf der Green-Stage zum Tanzen ein und die Zuschauer folgten dieser Einladung nur zu gerne. Blöd nur, daß es Soundprobleme gab während das Konzert live im Radio übertragen wurde. Dem Publikum wars schnuppe - es wurde getanzt, mitgesungen und abgefeiert. Souveränder Auftritt und absolut sympatisch noch obendrein. Im Anschluss wurde auf beiden Bühnen für 20 Minuten der Konzertbetrieb eingesellt, da man in dieser Zeit dem verstorbenen Sanitäter und seinem schwer verletzten Kollegen gedachte. Eine ergreifende Rede von einem Organisator wurde mit sehr viel Applaus bedacht und Gott sei Dank blieben peinliche Zwischenrufe von volltrunkenen Heinis aus. Die Fanta 4 sah ich im Anschluss nur halb, danach wurden noch einige Lieder von den fantasitischen Interpol mitgenommen - beeindruckend. Nach einer kurzen Ruhepause auf dem Campingplatz ging es noch einmal zu Snow Patrol, die auf der Blue-Stage den Abschluss bieten sollten. Großartige Songauswahl, viel vom aktuellen Album und eine ganze Menge Zuschauer, die dem Charme von Sänger Gary erlagen. Die Beastie Boys lieferten anschließend den absoluten Hammer des Festivals ab. Diese Band als Abschluss der 3 Tage zu wählen war ein Zug, der absolut aufging. Energiegeladen wie eh und je brachten Mike D, MCA, Ad Rock und Mixmaster Mike die Menge zum Kochen. Mal an den Instrumenten, mal nur als Hüpfbälle mit Mikros unterwegs wurden legendäre Hits wie 'Heart-Attack Man', 'Body Movin', 'Sure Shot', 'Tough Guy', 'Three Mcs and one DJ', 'Root down' und natürlich 'Intergalactic' vor einer beeindruckenden Lichtkulisse zum Besten gegeben. Zwischendurch wurde das Ganze noch mit Instrumentals von der aktuellen Platte "The Mix-Up" angereichert und mit 'Sabotage' der obligatorische Schlusspunkt gesetzt.
Letztendlich also ein absolut geniales Festival, was sich die FKP Scorpio Agentur mal wieder aus den Fingern gezogen hat. Viele gute Bands, sehr schöne Stimmung und ein im Endeffekt auch recht passables Wetter. Warum die Veranstalter jedoch darum bitten um 2 Uhr morgens die Radios auszustellen, um eine Nachruhe zu gewähren, verstehe ich nicht ganz. Das Partyzelt "überraschte" jeden Abend bis halb 7 oder 7 Uhr morgens mit einer Lautstärke, zu der man mit Sicherheit auch noch in Tuttlingen hätte tanzen können. Auch nicht schlecht.