Für Hardcoreshows musste ich bis jetzt eigentlich noch nie in Richtung NRW ausweichen. Das meiste gab es vor der Haustür zu bewundern, so eigentlich auch bei Vitamin X. Die machten vor kurzem Halt im beschaulichen Gießen und brachten dort das Ak44 zum Kochen. Da ich aber zeitlich verhindert war, fiel dieser Termin für mich ins Wasser. Also ab zum nächsten Wochenendtermin nach Essen, um da wenigstens mal einen gescheiten Liveeindruck zu bekommen.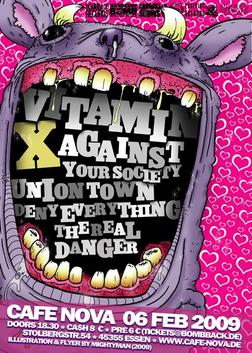 Leicht zu finden war das Café Nova in Essen bei weitem nicht. Knapp 3, 5 Stunden Fahrtzeit bei 200 km sprechen da eigentlich für sich. In der wahren "Schönheit" des Ruhrpotts versunken wies uns schließlich eine freundliche, alteingesessene und fachkundige Tankstellenchefin den restlichen Weg zum Nova. Gesagt, getan. Gefunden, geparkt.
Draußen, wie drinnen war schon einiges los und nachdem wir Deny Everything verpasst hatten waren jetzt The Real Danger dabei die Menge schon ein wenig in Stimmung zu bringen. Klappte auch ganz gut. Einige Kids erwiesen sich als durchaus textsicher und machten den Niederländern ordentlich Dampf unterm Hut. Melodischer Punk/Hardcore, ein doch recht akzeptabler Sound und zudem ein schickes Descendents-Cover. Genehmigt.
Kleine Worte zum Café Nova an dieser Stelle: Sehr schicker Laden mit ziemlich niedrigen Getränkepreisen und einem ansässigen veganen Essensstand. Die Tatsache jedoch, dass im Nova nach Lust und Laune gequalmt werden darf, machte den Aufenthalt im Laufe des Abends zunehmend unerträglich.
Als nächstes waren Union Town an der Reihe. Die passten auf den ersten Blick musikalisch nicht wirklich in das Programm des Abends, machten ihre Sache aber durchaus gut. Musikalisch erinnerte es zeitweise ein wenig an The (international) noise conspiracy, aber spätestens bei einem gelungenen Hüsker Dü – Cover war auch vorne wieder ordentlich Bewegung im Spiel und Singalongs standen auf der Tagesordnung. Solider Eindruck der Niederländer.
Im Anschluss machte sich der – in meinen Augen – klare Sieger des Abends startklar. Against your Society starteten ihr 30-minütiges Set und rissen das komplette Nova in Grund und Boden. Selten so etwas überzeugendes erlebt. Ohne Erwartungen hingegangen und aus dem Staunen gar nicht mehr herausgekommen. Vor der Bühne seitens der Zuschauer kollektiver Totalausfall und auf der Bühne ein keifender und schreiender Sänger, der an seine körperliche und mentale Höchstgrenze ging. Nebenbei noch ein Black Flag – Cover ("Fix me") zum Besten gegeben und nach einer halben Stunde alles in Trümmern zurückgelassen. Höchstnote. Die gebe ich dem 2008 erschienenen Longplayer der Band übrigens auch. Abchecken!
Vitamin X
hatten im Anschluss schweren Stand. Viele hatten nach AYS das Weite gesucht und das Nova trieb einem aufgrund des stehenden Zigarettenrauchs die Tränen förmlich in die Augen.
Die Band schien es nicht weiter zu stören und so gab es 30 Minuten lang einen Hit nach dem Anderen auf die Ohren. Vor der Bühne eingermaßen viel Bewegung und die obligatorische und zugleich legendäre aufblasbare Luftmatratze erfüllte ihren Partyzweck aufs Neue. Hier eine Wall of death, da mal ein paar Circle-Pits: Solide Spaßshow der Holländer, die mit "Bad Trip" ihren stimmungstechnischen Höhepunkt erreichte. Nach "See thru their lies" war schließlich finito und eine kurze Zwischenpause an der frischen Luft später konnte zufrieden der Heimweg angetreten werden.