We Are Scientists sind keine Gruppe von Wissenschaftlern die der Universität von Leicester einen Vorlesungsbesuch abstatteten. Es handelt sich dabei, wie jeder wissen dürfte, um die äußerst famose Indiekapelle aus den Vereinigten Staaten. Mit ihrem Debütstreich "With Love And Squalor" heimsten sie überall gute bis sehr gute Kritiken ein und wurden zu den Lieblingen der Musikmagazine. Zu Recht.
Um einige Tracks des bald erscheinenden neuen Albums zu präsentieren wurde eine ausgedehnte UK-Tour angekündigt, die auch einen Stopp in der Venue zu Leicester vorsah. Als Support dienten die Newcomer Kid Harpoon und The Cinematics. Kid Harpoon wussten mit einprägsamen Folk zu gefallen während die Schotten von The Cinematics qualitativ um einiges abfielen und nur einige Besucher mit ihrem standardisierten Britpop, der schon zu oft vorher gehört wurde, zu Begeisterungsstürmen hinreißen konnten.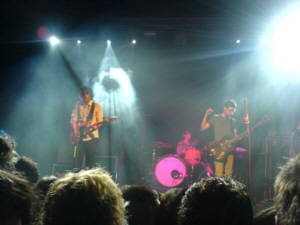 In der schwitzigen und natürlich seit Wochen ausverkauften Halle gab es dann auch kein Halten mehr als das Trio von
We Are Scientists
die Bühne betrat. Irgendwie beschleicht dann aber doch einen das Gefühl dass diese Gruppe ihrem Namen nach mit der Musik wissenschaftlich etwas am Hut haben muss. Was haben sie studiert? Hauptfach "tanzbare Indiemusik" mit den Nebenfächern "mitreißende Sing-A-Longs in Refrains" und "Hitdichte"? Hier wurde ein Feuerwerk abgebrannt, das seinesgleichen sucht.
"Nobody Move, Nobody Get Hurt", "This Scene Is Dead", "Cash Cow", "It´s a Hit" etc.
Diese altbekannten Kollegen von "With Love And Squalor" sind natürlich immer eine sichere Bank und würden wahrscheinlich auch den größten Studentenstreber zum Ausrasten bringen.
Aber auch das neue Material vom noch unbetitelten neuen Album der Scientists konnte ohne Probleme an die Qualität des alten Liedguts anknüpfen. "Tonight, Tonight" und "Altered Breasts" bleiben auf jeden Fall in Erinnerung und sollten schnellstmöglich den Weg auf einen neuen Longplayer finden. Nach knappen 1,5 Stunden war die "Vorlesung" dann beendet und man konnte sich mit gutem Gewissen auf den Heimweg machen, dass die 12,50 Pfund richtig investiert waren. Und sie haben doch den Dr. in Musik…