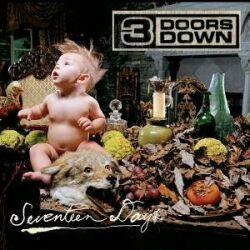 Wer kann sich noch an eine aufstrebende Truppe namens 3 Doors Down erinnern, die mit ihrem Debut "Better life" gnadenloser in die alternative Musikszene eindrang, als ein Haufen Kopftuchmuddis in den Karstadt während des Sommerschlussverkaufs?
Was folgte waren Albenverkäufe in Millionenhöhe und der softere und in allen Bereichen belanglose Nachfolger "Away from the sun". Seichtes Popgedudel. Die Single "Here without you" wurde und wird im Radio totgespielt, dass ich sogar immer auf Radiograusamkeiten wie "YouFm" oder "Planet Radio" umschalte, wenn das Lied angekündigt wird.

Beim mittlerweile dritten Album so called "Seventeen Days" war ich zunächst extremst überrascht, als ich mit "Right were I belong" einen richtigen Rocker im "Duck and run"-Stil vorgesetzt bekomme, ja, da fällt sogar einmal das Wort "fuck", richtig böse und aggro also. Höhö. Das gibt es doch nicht, 3 Doors Down finden zu alter Stärke zurück?

Nee, das gibts auch nicht, denn ausser dem ersten Lied verliert sich das gesamte Album in radiokompatibler Schmusemucke, die die traurige Fortsetzung des Vorgängeralbums zu sein scheint.
Uninspirierte Melodien treffen triste Gesangslinien, und weil das ganze noch nicht schlecht genug ist, wiederholen sich die Songstrukturen immer und immer wieder.

Um es auf den Punkt zu bringen, 3 Doors Down kehren mit diesem Machwerk der alternativen Musiklandschaft nun endgültig den Rücken und freuen sich im Radio mehr Hörer ansprechen zu können. Das nächste Album werde ich noch nicht mal probehören. Anscheinend haben selbst die Radiosender das Phänomen der Album-Single "Let me go" total übersehen, so höre ich nämlich immernoch in jedem x-beliebigen Fahrstuhl eine leise Stimme winseln, "I'm here without you...."