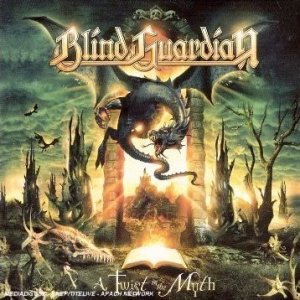 Vier Jahre ist es nun her, seit die Power Metal-Kombo aus Krefeld ihr letztes Studioalbum "A Night At The Opera" veröffentlichte und damit bei den Fans sehr gespaltene Reaktionen hervorrief. Nachdem man schon Anfang des Jahres 2006 die Single "Fly" auf den Markt warf, folgte jetzt im Herbst mit "A Twist In The Myth" das dazugehörige Album, das in kommerzieller Hinsicht (Platz 4 in den deutschen Album-Charts, "Fly" in Japan auf Platz 1 der Single-Charts) bereits überzeugen konnte und wie der Vorgänger musikalisch neue Wege beschreitet.
In der Zwischenzeit hat sich auch in der Stammbesetzung der Band etwas getan. Blind Guardian-Mitbegründer und Drummer Thomas Stauch verließ aufgrund von musikalischen Differenzen schon 2005 die Band und widmet sich seitdem voll und ganz seinem Projekt "Savage Circus". Mit Frederik Ehmke hat Blind Guardian zwar einen würdigen, keinesfalls aber gleichwertigen Nachfolger für ihm gefunden.
Produziert wurde "A Twist In The Myth" übrigens von keinem geringeren als Charlie Bauerfeind, der schon für Bands wie Hammerfall oder Motörhead arbeitete.

Mit "This Will Never End" und "Otherland" stehen zunächst zwei großartige, recht schnelle und von der Stimmung her trüb-melancholische Stücke auf dem Programm. Dies wandelt sich bei "Turn The Page" schlagartig - das sorgt für Abwechslung. Den Hype um "Fly" kann ich persönlich überhaupt nicht nachvollziehen. Sowohl textlich als auch technisch ist das Stück meines Erachtens bestenfalls unteres Mittelmaß von dem, was Blind Guardian zu bieten hat.

"Another Stranger Me" ist ein weiteres Highlight, wobei man hier schon fast einen Gesangs-Overkill bekommt. Wo wir gerade beim Thema Gesang sind: Ganz so überproduziert wie manches Mal in der Vegangenheit ist selbiger nicht mehr, allerdings braucht man auch bei "A Twist In The Myth" einige Hände, um alle Gesangsspuren abzuzählen.

Auf dem Album findet man mit "Carry The Blessed Home" und "Skalds And Shadows" auch zwei Balladen. Besonders letztere ist zweifelsohne ein Hammer! Wunderschöne Instrumentierung, untermalt mit Chorgesang - und dennoch kommt Hansis Stimme hier voll zur Geltung. Weiter geknüppelt wird hingegen bei "Lionheart" und "The Edge", auch wenn diese Songs nicht an das Niveau der ersten Hälfte der Platte herankommen. "The Edge" erinnert an die "Imaginations From The Other Side"-Ära und dürfte somit manchen Alt-Metaler sehr erfreuen. Die letzten beiden Titel sind nichts besonderes, runden das Album aber passend ab.

Fazit: Blind Guardian liefern mit "A Twist In The Myth" ein solides Stück Musik ab. Von technisch-musikalischer Seite gibt es wie zu erwarten nichts zu kritisieren. Textlich sind manche Songs wie "Fly", "Lionheart" oder "Dead Sound Of Misery" zwar etwas dünn, aber zusammenfasend kann man sagen, dass Blind Guardian sich seit "A Night At The Opera" doch ein gutes Stück weiterentwickelt haben und nach wie vor überzeugen können. Selbstverständlich werden sie sich von mancher Seite (wie nach den letzten Veröffentlichungen auch) anhören müssen, man orientiere sich immer mehr am Mainstream, aber dies wird die Truppe um Hansi Kürsch hoffentlich nicht davon abhalten, weiterhin qualitativ hochwertigen Metal zu produzieren.