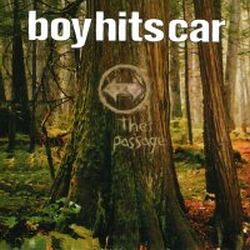 "Lets go, cause there's nothing left to lose". Mit diesen Worten wird man während des Intros "As Day Fades" und dem ersten Track "Tonight" von den drei Emojungs aus der Surferecke begrüsst. "All it matters is, we are here tonight". Da haben sie Recht, wenn man bedenkt, dass die letzten vier Jahre wirklich schlechte Zeiten für Boy Hits Car bereit hielten.
Erst schmiss Drummer Michael Ferrari das Handtuch, dann lies ihr Label "Wind-Up", die Band wie ne leere Colaflasche über Bord werfen und schliesslich beschloss man die Band gleich ganz aufzulösen.

Schade eigentlich, war doch das selbstbetitelte Debut ein wirklicher Ohrenschmaus. Umso erfreuter war der nette Benzolschreiberling von Obendrüber, als er auf seinen endlosen Internetstreifzügen darauf aufmerksam gemacht wurde, dass die Buben von Boy Hits Car mit "The Passage" einen Nachfolger zustande bekommen haben. Und da auch kein Label passend schien, verhökert man das Teil einfach im outlaw-style direkt über die Homepage.

Was erwartet denn nun den geneigten Hörer, wenn er das Album in das Abspielgerät seiner Wahl hievt? Nüchtern betrachtet kann man den Sound als einen new-metallischen Mix aus "Incubus" und "Rage against the machine" ansehen. Nach mehrmaligen Hören offenbart sich aber ein Recht eigenständiger Sound mit einer Menge Feinheiten. Auch der orientalische Flair des Debuts scheint hin und wieder, wenn auch extrem ausgedünnt, verschmitzt durch die Gitarrenwände. Generell ist der Band ein ziemlich cooles Album gelungen, bei dem alle Songs thematisch (textlich, wie musikalisch) Zusammenhängen, was ein sehr homogenes Bild ergibt. Ganz ohne Durchhänger geht es natürlich nicht und so muss man sich durch Schnarchbeulen wie das lahmarschige "This song for you" schlafen. Solche Ausrutscher halten sich zum Glück dezent zurück und die meiste Zeit kann man geniessen.

Alles in allem liegt einem mit diesem Werk ein solides Album einer Pechvogeltruppe vor, die es sicherlich verdient hat an alte Erfolge anzuknüpfen. Verstecken müssen sie sich nicht.
Kleiner Tip: Auf der Bandpage kann man in einige Lieder reinhören.