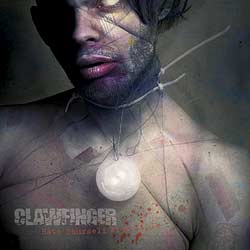 Stellt euch eine Welt vor, in der die Zeit seit zwölf Jahren stehengeblieben ist. Bands nehmen ihre Alben immer wieder neu auf, sonnen sich im Schein alter (oder neuer, egal, klingt ja sowieso alles gleich) Glanztaten. In so einer Welt leben die Schweden von Clawfinger, das Debut "Deaf, dumb and blind" schlug damals ein wie eine Bombe.
Die Band wurde als Crossoverpionier in einem Atemzug mit "Faith No More" und später auch mit "Rage against the machine" gehandelt. Seitdem hat sich die Welt um sich selbst gedreht, besagte Brüder im Geiste haben sich bereits, und das nicht ohne Grund aufgelöst.

Tja, es kam so wie es kommen musste, Clawfinger verpennen das der Crossover-Zug abgefahren ist, die Welt sich ausserhalb ihrer Studiotüren weiterdreht und sich eigentlich niemand mehr, die schon fast als Eigenkopie durchgehenden, Kreationen reinpfeifen will. Bei Songs wie "Sick of myself" treibt es einem die Mitleidstränen in die Augen. Ich würde mich auch hassen wenn das Ergebnis von "what we've got, is what you getting" so kümmerlich ist. Hass ist übrigens der Falsche Begriff, Scham würde besser passen.

Meckern kann ja jeder, was ist denn eigentlich so schlimm an dem Album?
Ganz einfach, musikalisch sowie textlich klingt alles wie im Jahre 1993, als die Musikrichtung neu und interessant war.
Mittlerweile ist es halt nichts neues und aufregendes, sondern schon 1000mal durchgekaut worden. Die Texte sind nach wie vor in "Ich-brauch-nen-Text-schlagen-wir-also-mal-das-Wörterbuch-auf"-Englisch, somit extrem simpel zu verstehen. Lyrische Diamanten wie "Masturbating with fools" oder aber "You become my pimp, and I become you're little whore" zergehen wie immer auf der Zunge.

Hasst euch meinetwegen, aber dann wirklich mit Stil und nehmt frei nach Curt Cobain eine Schrotflinte mit aufs Klo. Dieses Teil braucht niemand.