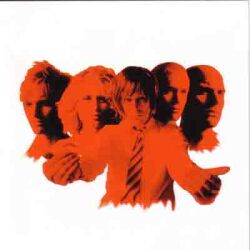 Ich hatte es an anderer Stelle bereits einmal erwähnt, aber ich tue es gerne noch einmal: In Schweden kann man sich über mangelnden musikalischen Nachwuchs nicht beschweren. Nachdem in den letzten Jahren eine Erfolgscombo nach der Anderen in die Nachbarländer transportiert wurde, scheint das Fließband immer noch nicht still zu stehen. Gut geölt fördert es auch weiterhin die ein oder andere musikalische Perle zu Tage. In diesem Falle ist dies ein Schmuckstück namens
The Callahan
.
The Callahan ist eine 5-köpfige Band aus Stockholm und hat in ihrem Heimatland mit der Single 'Melody that counts' bereits im Radio für Entzückung auf Seiten der Zuschauer gesorgt. Nun erscheint auch in Deutschland am 20.April das Album mit 12 Tracks und wartet darauf von den Massen entdeckt zu werden.
Die Musik von The Callahan zeichnet sich im Großen und Ganzen durch einen recht poppigen Gesang, gepaart mit schicken Gitarrenriffs und einer ordentlichen Prise Keyboardparts aus. Hardpop eben. Mal versucht man sich in der ruhigen Ecke anzusiedeln ('Dirty little angel'), um jedoch beim nächsten Lied gleich wieder erfrischend nach vorne zu gehen ('Shooting star'). Viele Lieder entpuppen sich bereits nach einmaligem Hören als Ohrwürmer und die doch recht einzigartige Stimme von Sänger Andy gibt dem Ganzen noch den letzten Anstrich um Kopf und Füsse mitwippen zu lassen.
Besonders Lieder wie 'Melody that counts', 'Mayday' und das geniale 'Server X' wissen zu überzeugen und es bleibt mit Sicherheit nicht beim einmaligen Hören. Speziell bei letzterem sind musikalische Einflüsse von
The Sounds
nicht von der Hand zu weisen. Würde mich freuen dieses Lied demnächst auch mal in der ein oder anderen Rockdisse zu hören.
Eines hat die Truppe aus dem Norden des Kontinents auf jeden Fall geschafft: In 45 Minuten ein durchweg tanzflächentaugliches und zugleich noch eingängiges Album abzuliefern, was dem Hörer durchaus im Gedächtnis bleibt. Somit bleibt nur festzuhalten: Mission erfüllt, liebes Callahan-Team - weiter so!
Ps.: Die Band hat bereits angekündigt in naher Zukunft einige Konzerte in Deutschland zu spielen. Sollte man sich nicht entgehen lassen.
Label: Modernnoise/ Vertrieb: Cargo Records
Homepage:
www.thecallahan.com