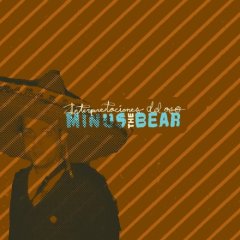 Zu seligen Schulzeiten konnte ich mit Interpretationen, Analysen oder sonstigen Aufgaben, bei denen es um reine Auslegungssachen ging, nicht wirklich viel anfangen. Kommt es doch viel zu sehr darauf an, als welcher Sicht man die Dinge sieht, und am Ende kann sowieso nicht sagen, ob die Interpretation im Sinne des Schreibers war. Wenn ich die Noten meiner Klausuren betrachtete dann wußte ich sowieso, dass kein Lehrer verstanden hatte um was es mir ging. Außer ein verächtliches Schulterzucken hatte ich für die entsprechende Lehrkraft jedoch nicht übrig.
Ähnlich ergeht es mir mit dem Album "Interpretationes del Oso" von bzw. über Minus the Bear, welches es sich zur Aufgabe gemacht hat, die Songs des 2005 erschienenen und nebenbei bemerkt, verflucht guten, "Menos el Oso" eben jener Bärenbrüder zu remixen.
Mir völlig unbekannte Interpreten wie P.O.s., Alias oder Tyondai Braxton tobten sich an ihren Drum-Computern und Mischpulten aus und verarbeiteten die Songs von luftiger Fluffigkeit in teilweise extrem nerviges Elektrogebrabbel (siehe den FOG-Remix von "Memphis+53rd"). Zwei Alben unterschiedlich wie Strand und Fabrikhalle, wie Heidi Klum und Angela Merkel. Zwar bleiben größtenteils die Melodien der Originalversionen im Grundgerüst erhalten. Doch sind diese teilweise so stark ausgebremst worden, dass man sich wirklich durch die Lieder durchquälen muss.
Am Gesang von Jake Snider kann man glücklicherweise nicht viel versauen, was das Album doch wiederum aufwertet. Zugute halten muss man den Herrn Remixern auch, dass teilweise ganz interessante Lieder entstanden sind. So ist das "Alias Remix" von "Pachuaca Sunrise" oder die Neuinterpretion von "The Game needed me" nicht wirklich schlecht. Nur reichen sie eben nicht an die Qualitäten der Originale heran. Denn Songs wie "Drilling" verändert man nicht, die lässt man so wie sie sind. Wie soll man sonst bei dem ganzen Drum and Bass, Industrial und Elektrogedöns imaginäre raue Küstenstraßen und kreischende Möwen sehen.

Oje, im Endeffekt kommt doch wirklich alles wieder zurück. Jetzt verteile ich Noten für meiner Meinung nach versaute Interpretationen. Wenn ich dafür auch nur Schulterzucken ernten sollte, dann hat sich zumindest in einem Punkt nichts geändert, was auch beruhigend sein kann.