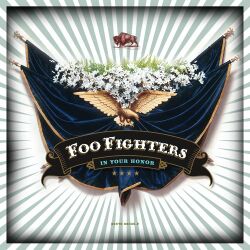 All my life I've been searching for something / Something never comes never leads to nothing. Wer erinnert sich nicht an diese Anfangssequenz des letzten Albums "Ony by One"? Dieser Song wird auch noch in einigen Jahren aus diversen Boxen schallen.
Genauso wie "Everlong", "Breakout" oder diversen anderen Liedern mit denen uns Dave Grohl beglückt hat. Alles samt Klassiker.

Aber kann das neue Album es mit der Vergangenheit von den Foo Fighters aufnehmen? Um das gleich vorneweg zu nehmen: Im Ansatz ja, aber es fehlt dennoch einiges um an das Niveau der Vorgängeralben heranzukommen. Obwohl Dave Grohl den Anspruch an das neueste Album mit folgendem Zitat sehr hoch schraubte: "Wenn in 20 Jahren ein Kind seinen Vater fragt, welche Platte der Foo Fighters man haben sollte, dann wird dieser antworten: 'In Your Honor'". Sorry, Dave. Das wird nicht so sein.

Die Besonderheit an "In Your Honor" ist, dass es sich um zwei Seiten handelt. Die erste CD ist rockig. Bei der zweiten wurde dann der Strom abgeschaltet und der Akustikgitarre wurde der Vortritt gelassen. Aber musste das denn wirklich sein? Haben sie sich dadurch vielleicht nicht ganz auf ihre Stärke konzentriert Songs zu produzieren, die einen mit ihrer Explosivität vom Stuhl hauen? Die Foo Fighters haben natürlich auch schon Akustiksongs eingespielt, die sehr viel Klasse haben wie zum Beispiel die Versionen von "Times Like These" oder "Everlong". Aber diese Tracks wurden zuerst mit dem Ziel gemacht die Konzertsäle dieser Erde erbeben zu lassen. Die Akustiksongs von "In Your Honor" hingegen wurden gemacht um die ruhige Seite der Foo Fighters darzustellen. Aber das ist nicht ganz gelungen. Dave Grohl ist nicht der Typ Songwriter. Das soll er anderen überlassen. Auf der ruhigen Seite ist nämlich mit "Another Round" nur ein Song zu erwähnen, der etwas heraussticht.

Der rockige Teil fällt dann doch etwas besser aus. "In Your Honor" ist ein typischer FF-Opener, der die Spannungskurve aufbaut und zum Ende hin explodiert. Die eigentliche Stärke der Foo Fighters. Mit "No Way Back" folgt dann das klassische Foo Fighters Rockbrett. "Best Of You", die erste Single gefällt mit einem tollen Chorus, aber die Zündschnur ist auf der Hälfte des Weges wohl ausgegangen. Die Detonation ist hier ausgeblieben. Das beschreibt auch das Problem das Albums. Die Band spielt ihre Stärke in der Hinsicht nicht aus. Man wartet immer, dass noch etwas kommt. Vergebens. "DOA" und "Hell" bestätigen diese Beobachtung wieder. An sich Songs ohne Fehl und Tadel. Aber es fehlt halt was. Dieser Makel der nicht vollends abgebrannten Zündschnur bleibt auch bis zum letzten Song bestehen.
Vielleicht hat man etwas zu hohe Ansprüche, aber von den Foo Fighters erwartet man eigentlich mehr. Es ist weiß Gott kein schlechtes Album, aber die hohen Erwartungen wurden nicht ganz erfüllt, da es doch recht kurzweilig ist. Das nächste mal sollten sie sich wieder auf ihre Stärken zurückbesinnen und das gibt dann auch ganz bestimmt wieder ein Feuerwerk.
www.foofighters.de