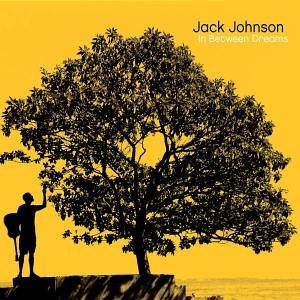 Der Johnsons Jack. Da ist sie also. Seine dritte Veröffentlichung. Und die ist keine Überraschung. Er führt den Stil seiner ersten beiden Alben "Brushfairy Tales" und "On and On" konsequent geradlinig weiter. Aber warum sollte man ein Erfolgskonzept auch ändern?
Happy-Mood-Folk könnte sein Konzept genannt werden. Der ehemalige Weltklassesurfer, der sich gegen eine Surferkarriere entschied, kam durch seine Filmtätigkeit (Filmstudium an der Universität von Kalifornien), zum Musikmachen. Denn anstatt teure Soundtracks für erfolgreiche selbstproduzierte Surffilmchen wie "Thicker Than Water" komponieren zu lassen, nahm er die Klampfe lieber selbst in die Hand. Zum Glück.
Obwohl er schon einen Profivertrag mit Quiksilver hatte, entschied er sich jedoch dafür, das Musikhandwerk professionell anzugehen. Der wahrscheinlich riskantere Weg, aber am Ende doch der erfolgreichere. Gingen doch seine ersten beiden LP´s mehr als eine Millionen Mal über die Ladentische.
Mit Klavier und Gitarre besingt Jack Johnson im ersten Track "Better Together" die Zweisamkeit: Just me and you / Not so many things we got to do / Or places we got to be / We'll Sit beneath the mango tree. Einfach nur zurücklehnen und relaxen. Und so geht es auch weiter. Die Lieder sind praktisch alle aus einem Holz geschnitzt. "Never Know" und "Banana Pancakes" sind die nächsten Lieder mit dem Happy-Mood Gen. Weitaus beschwingender kommt die zweite Singleauskopplung "Good People" daher. Mit solchen Liedern wird auch ein verregneter Sommer noch zu einem Erfolg. Ganz sicher. In "Sitting, Waiting, Wishing" erzählt Surfer-Jack von einem Freund der es langsam leid ist einer Frau hinterherzurennen.
Die Lyrics seiner Songs sind aus der Realität gegriffen und nicht irgendwelche Fantasiegebilde, auf die sich jeder etwas selber zusammenreimen kann. Und so wie das Album mit "Better Together" beginnt endet es auch mit "Constellations". Die zwölf Songs dazwischen ähneln sich sehr. Aber das ist auf diesem Album alles andere als schlimm. Sondern eher angenehm und gewollt.
Diese Platte gehört in jeden Rucksack wenn es denn in einen ausgedehnten Strandurlaub gehen sollte. Sonne, Strand, Meeresrauschen, Palmen. Erst unter diesen Umständen kann sich diese Platte richtig entfalten. Aber warum ans Meer fahren. Augen zu, Jack Johnson hören und man hat schon einen salzigen Geschmack des Meeres im Mund, Sand an den Füssen und Sonnenstrahlen auf dem Rücken.
Die Sommerplatte des Jahres.
www.jackjohnson.de