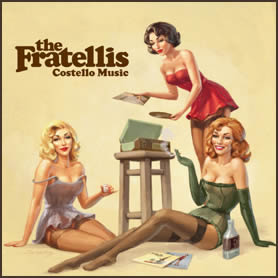 The Fratellis. Denkt man da nicht zuerst an eine italienische Mafia-Familie, die jetzt auf einmal Musik macht? Ganz so falsch ist das nicht. Denn kennt noch jemand den Spitzenfilm aus der Kindheit mit dem Titel "The Goonies"?
Die böse italienische Familie in diesem Film hieß Fratelli. So ist also schon mal die Herkunft des Namens geklärt. So ganz nebenbei: Der Film ist absolut sehenswert. Aber ist die Platte auch hörenswert?
Eins wird ganz schnell klar. Die schottische Band mit dem italienischen Namen will die Tanzflächen dieser Welt erobern. Großes Indie-Kino wird hier geboten. Die Fratellis setzen auf viel "Dadada" und "Lalala" zwischen den Textzeilen. Normalerweise nervt das, weil der Hörer denkt, dass das Album in Schlumpfhausen aufgenommen wurde. Aber im hiesigen Fall passt es einfach. "Chelsea Dagger", "For The Girl" und "Flathead" sind da so Kandidaten. Anhören, lieb haben, in Bewegung setzen. Vor allem letzteres will einmal gehört, nicht mehr aus dem Kopf verschwinden. Diese Erfahrung musste auch der große Computerhersteller mit dem Apfel machen und übernahm den Song für die neue iPod-Kampagne. Eine gute Wahl.
Ruhig ist jedoch auch machbar. "Whistle For The Choir" ist hier nennen. Ein nettes Stückchen mit Folk-Einflüssen. Dies bleibt aber die Ausnahme, da laut auf "Costello Music" definitiv in der Überzahl ist. Auch wenn die zweite Albumhälfte das Niveau der ersten nicht mehr ganz halten kann, ist diese Platte doch mehr als nur gut. Das ist wie im Fussball: Welches Team packt es schon ein grandioses Tempo zwei Halbzeiten durchzuhalten? Real Madrid vielleicht. Aber da sind sie noch nicht ganz angekommen die Fratellis. Beim nächsten Mal vielleicht. Und schaut euch die Goonies an. Das lohnt sich genauso wie diese Platte.
http://www.thefratellis.com