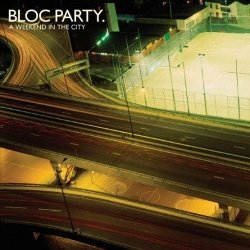 Ein Wochenende in der Stadt. So betiteln Bloc Party ihr Zweit(meister)werk. Was will uns der Albumtitel über die Musik erzählen? Wird sie laut sein, wie der nie endende Verkehr einer Großstadt?

Wird sie hektisch sein, wie die Menschen die in ihr wohnen? Und was macht man an einem Wochenende in der Stadt? Feiern? Entspannen? Nachdenken? Eine Stadt hat viele verschiedene Facetten. Genau wie die Musik von Bloc Party.


"A Weekend In The City" ist keinesfalls so leicht zugänglich wie sein Vorgänger. Die Musik ist diesmal komplexer und experimenteller ausgefallen. Aber genau dadurch wird sie nicht so leicht durchschaubar und Überraschungen sind demnach auch nach mehrmaligem Hören vorprogrammiert.

Kele Okereke und seine Mitstreiter brillieren mit feinsten Melodien. Dadurch werden Stimmungen erzeugt und Atmosphären geschaffen, die den Hörer die Musik wirklich fühlen lassen. Bloc Party ließen sich bei der Entstehung der Platte nach eigener Aussage von der "living noise of a metropolis" beeinflussen. Stimmt.

Musikalisch wie auch textlich wird das urbane Leben umschrieben. Songs zum relaxen, entspannen und runterkommen wechseln sich ab mit Songs die hektisch bis nachdenklich sind und einen etwas dunkleren Unterton haben. Im fröhlich-positiven "I Still Remember" wird eine Jugendliebe besungen und deren Spaß in der städtischen Welt: And on that teachers' training day/We wrote our names on every train/Laughed at the people off to work/So monochrome and so lukewarm. Kommen da nicht Erinnerungen hoch? Schön war es früher.

Und folgende Situation ist jedem bestens bekannt: Samstag abend zu tief ins Glas geschaut und als Resultat davon ist der Sonntag meist ein Tag zum dahinvegetieren. Da bleibt man lange im Bett liegen oder geht in den Park und schläft dort seinen Rausch aus. Auch solche allwöchendliche Gegebenheiten werden von Bloc Party im ebenfalls beschwinglichen "Sunday" besungen. Heavy night, it was a heavy night/I cannot remember what I said to anyone/If we get up now we can catch the afternoon. Wie wahr das doch ist.

Diesen positivistischen Tracks stehen einige Songs gegenüber die im Unterbewusstsein Pessimismus verbreiten und kritische Themen ansprechen. "Uniform" und "Hunting For Witches" sind in diese Schublade einzuordnen. Kritisch wird sich hier mit den Themen Terror und Konsumgesellschaft auseinandergesetzt.

"A Weekend In The City" ist urbane Musik. Eine Stadtplatte. Nachdenken, feiern, relaxen, tanzen – diese Platte kann alles. Kennt ihr übrigens den Geruch einer Stadt an einem heißen Sommertag? Wenn man Düfte in Töne umwandeln könnte, dann wäre es genau dieses Album.