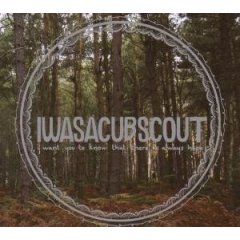 Nachdem ich
I was a cub scout
im vergangenen Herbst als Vorgruppe von
Minus the bear
geniessen durfte, war ich regelmässiger Besucher ihrer MySpace-Seite. Die Suche nach gepresstem Liedgut erwies sich als schwierig. Zwei sehr gute Singles. Dann war Sense. Umso erfreulicher, dass sie jetzt ihr erstes Album namens "I want you to know that there is always hope" an den Start bringen.
Und die Musik, die es darauf zu hören gibt, klingt erstaunlicherweise wie der Albumtitel. Einfach nur schön. Todd Mariotts jugendlicher Stimme (kein Wunder der Kerl ist ja noch ein Jugendlicher) werden pluckernde Synthesizer entgegengestellt, dazu gibt es Schlagzeug und Gitarre. Fertig.
Die Musik von
IWACS
ist trotz hauptsächlich hoher Taktzahl nicht wirklich tanzbar. Sie verführt eher zum zuhören. Schon allein der britische Akzent ist Gold wert. Hin und wieder ähneln sich die Songs jedoch, was bei der Eigenständigkeit der beiden englischen Jungs durchaus verzeihbar ist. "Pink Squares" und "Our smallest adventures" sind zwei echte Knaller. Der Rest des Albums fällt in der Hinsicht schon ein bisschen ab.
In Anbetracht des extrem jungen Alters der Zwei-Mann-Band und das es sich bei "IWYTKTTIAH" um deren Debut handelt, kann man nur erstaunt den Hut ziehen. Wo würden wir denn hinkommen, wenn plötzlich jeder mit 17 oder 18 Jahren so ein Ding raushauen würde? Äh, vielleicht in eine bessere Musikwelt.
www.iwasacubscout.net
VÖ: 07.03.2008 auf Xl/Beggars/Indigo