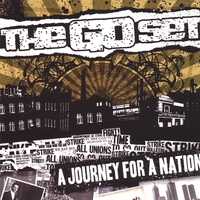 The Go Set
aus Australien waren mir spätestens seit dem
Modern Noise Sampler
keine Unbekannten mehr. Für ihre Mischung Punk und Folk stehen die Dropkick Murphys Pate. Schließlich stiess ich noch auf
Union Man
vom Vorgängeralbum "The Hungry Mile" und meine Freundschaft zu den Aussies war besiegelt.
Umso grösser die Freude als ich "A journey for a nation" in meinem Briefkasten fand. Der Opener "Fortune and Gold" eröffnet mit Dudelsack und geht schließlich in eine Art Shanty über.
Keine Spur von irischem Streetpunk. Auf diesen musste ich übrigens noch ziemlich lange warten. Und zwar bis "Welcome to the world" das immerhin der zehnte von zwölf Titeln ist. Hier finde ich als einziges die Klassenkampf und Aufstandattitüde, die ich von der Bandpage und eben jenem "Union Man" vermittelt bekommen hatte. Alle anderen Lieder sind mehr Folk als eben Gitarre, sprich Flöten, Violinen und Trommeln. Klar, diese Musik steht für Underclass, aber meine Herren ohne Flachs, ein bisschen musikalischer Nachdruck schadet ja nicht. Authentisch ja, aber ausser den Texten nur bedingt interessant.
Wie man Folk und Neuzeit miteinander verbinden kann zeigt "Waiting for the great leap forwards". Achso, ein klarer Pluspunkt ist übrigens der Slang von Sänger Justin Keenan.
Das Album ist übrigens in Deutschland nur als Mp3 - Release erhältlich. Eine CD-Version gibt es nur auf der Tournee zu erstehen. Wer die Atmosphäre von irischen Pubs mag, der dürfte bei
The Go Set
gut aufgehoben sein. Jedem anderen sei zur Vorsicht geraten.