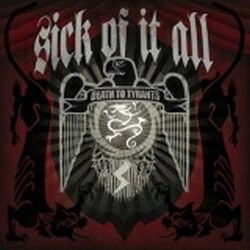 Zum 20-jährigen Jubiläum bringt die New Yorker Hardcorecombo Sick of it all ein neues Werk unter das Volk. Die heute noch erfolgreichen HC-Bands, die nach so vielen Jahren des Bestehens noch am Start sind ohne großartig peinlich geworden zu sein, kann man eigentlich an einer Hand abzählen.
Umso erfreulicher, daß SOIA auch heute noch gradlinige und einzigartige Musik machen - nicht zuletzt dank der Stimme von Lou Koller, der mal wieder den ein oder anderen Anlass gefunden hat, sich textlich in höchstem Maße zu verausgaben.
Im Vorfeld war ja die Spannung groß, wie sich das neue Werk anhören würde - und die Fans dürfte der 4-er aus der Weltmetropole keinen Falls enttäuschten. Den Startschuss setzt das überaus gelungene "Take the night off" gefolgt vom Midtempo-Killer "Uprising nation". Es folgt "Always war", was aufgrund einiger genialer Moshparts überzeugen kann und zwischendurch den Kopf heftigst nicken lässt. Alles im grünen Bereich also! Anschließend reiht sich mit "Die alone" ein 1a Mitgröhl-Track ein, der live sicherlich perfekt ankommen dürfte. Mit "Evil Schemer" folgt ein weiter Moshtrack und bei "Leader" dürfte bei jedem Sick of it all-Fan die Sonne aufgehen - irre schneller Punkrocksong in knappen 70 Sekunden. Mal eben so dahingeballert und hingerotzt - herrlich! Man kommt eigentlich gar nicht mehr aus dem Staunen heraus, was die doch schon in die Jahre gekommenen Herren da so abliefern. "Forked tongue" und "Faithless" geben einem eigentlich schon den Rest, aber bei "Fred Army" rafft man sich noch einmal auf. Derber Punkschlager, der ebenfalls zum Mitgröhlen einläd. Da freut man sich jetzt schon einmal auf die Konzerte der Combo am Ende des Jahres. Den Schlusspunkt setzt schließlich "Maria white trash", der gemäßigt anfängt, dann aber alles niederreißt, was sich ihm in den Weg stellt!
Was lässt sich also abschließend sagen? Ein Silberling, der wieder einmal beweist, daß Musiker auch noch nach 20 Jahren authentisch rüberkommen können und in der Lage sind geniale Musik zu machen. Druckhafte Drums und die einzigartige Stimme von Lou Koller verwandeln das neue und hoffentlich nicht letzte Werk von SOIA mal eben innerhalb von 34 Minuten in einem Klassiker.
www.sickofitall.com