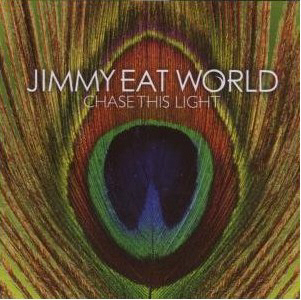 Manchmal ist eine Beziehung zu einer Band vergleichbar mit einer Beziehung zwischen Mann und Frau. Man durchlebt Höhen und Tiefen. Man wird enttäuscht und man verzeiht. Mit Jimmy Eat World gab es bisher kein einziges Tief und die Beziehung ist seit Jahren intakt. Keine einzige Enttäuschung die man verzeihen müsste. Geradezu beneidenswert werden sich andere Pärchen denken.
Das Geheimrezept liegt darin, dass Jimmy Eat World in ihrer bisherigen Diskographie ausschließlich Perfektion ablieferten. Im beständigen Zeitraum von drei Jahren wurde der Beziehung durch ein weiteres Album neues Leben eingehaucht. Von Langeweile keine Spur. Aber wie ist das mit dem neuen Werk "Chase This Light"? Ist es ein nächster Beziehungshöhepunkt oder werden erste Risse offensichtlich?
"Chase This Light" überrascht. Es ist nicht das Album geworden, das alle erwartet hatten. Es hat nicht die Rohheit von "Static Prevails". Es hat nicht den Tiefgang von "Clarity". Es besitzt nicht die perfekten Popsongs wie Bleed American. Es ist nicht die perfekte Mischung aus allen Vorgängeralben wie "Futures". Es gibt Veränderungen.
Wer an seiner Freundin Natürlichkeit liebt, wird überrascht sein wenn sie eines Tages auf einmal mit einer dicken Schicht Make-Up vor einem steht. Irgendwie befremdlich, ungewohnt und gewöhnungsbedürftig. Genau dasselbe passiert mit "Chase This Light". Da wird an den Reglern gedreht, Effekte werden eingesetzt und an vielen überflüssigen Stellen werden Aaaahs und Oooohs in den Hintergrund gespielt. Manchmal ist weniger einfach mehr. Wo bleibt die Ursprünglichkeit und Natürlichkeit? Wie sagt doch ein Sprichtwort: Natürlichkeit ist ein kostbares Gut, tausche es nie ein. Doch das ist leider ein wenig geschehen.
"Chase This Light" ist stimmungstechnisch fröhlicher ausgefallen als seine Vorgänger. Die Grundstimmung ist deutlich positiver. Doch leider geht dadurch auch etwas an Tiefgang verloren. Es fehlt an einer Hymne wie "23" oder "Goodbye Sky Harbour". Lieder zum darin versinken und zum stundenlang nachdenken.
Das hört sich alles schlimm an, aber das Album ist dennoch nicht schlecht. Es ist sogar gut. Aber von Jimmy Eat World muss man perfektes erwarten. Gut ist in diesem Fall nicht gut genug. Aber nichts desto trotz steckt noch genug Jimmy Eat World in der Scheibe um sie ins Herz zu schließen. Gründe gefällig? Catchy Refrains, die einem den ganzen Tag nicht mehr aus dem Kopf wollen wie bei "Big Casino" oder "Always Be". Textzeilen wie "I have a ringing in my head/And no one to help me answer it/Even with you close enough to kiss" in "Let It Happen". Gefühlsregungen bei "Dizzy". Dancing-Songs wie "Here It Goes". Das ist alles Jimmy Eat World. So wie man sie liebt. Sie zaubern einem auch wieder mit dieser Platte ein Lächeln ins Gesicht oder eine Träne ins Auge. Und nur das zählt.
Der nächste Beziehungshöhepunkt ist zwar ausgeblieben, aber es reicht ohne weiteres aus der Beziehung genug neues Leben einzuhauchen, um sie bis zum nächsten Album aufrecht zu erhalten. Trennung also ausgeschlossen. Bis das der Tod uns scheidet.