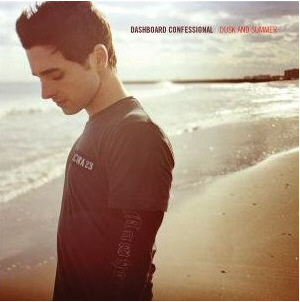 Welchen Inhalt muss das Gespräch zwischen dem Verantwortlichen der Plattenfirma und Chris Carraba wohl gehabt haben? Sie müssen sich über den deutschen Markt unterhalten haben und dann entschieden haben, dass dort eindeutig mehr rauszuholen ist. Aber wie, wenn man schon mit grandiosen Vorgängeralben nicht zum kommerziellen Verkaufsschlager wurde?
Dann kam einem der beiden wohl der blendende Einfall: Ein Dashboard Confessional Lied einfach mit einer bekannten deutschen Band einspielen und das ganze dann aufs Album bringen und als Single vermarkten. Das kann ja nur förderlich sein. Und schon sitzt die Eva von Juli bei "Stolen" mit im Boot. Marketingtechnisch sicher eine förderliche Idee. Aber ob das musikalisch ein Fortschritt ist bleibt fraglich. Und sympathischer macht das Ganze auch nicht.
Dashboard Confessional verabschieden sich mit dieser Platte komplett von ihren akustischen Anfangstagen. Dabei waren diese doch so schön. Nur der Chris und seine Gitarre. Und man darf diesen Tagen wirklich nachtrauern. Denn "Dusk And Summer" verliert sich mit ein paar Ausnahmen ausnahmslos im mainstreamtauglichen Radiopop. Hier soll der Erfolg auf kommerzieller Basis mit aller Macht erreicht werden. Aber dabei bleibt die Qualität und Einzigartigkeit die Dashboard Confessional mal auszeichneten auf der Strecke. Keine Emotionen. Musik die nicht annähernd berührt. Und das konnte er mal. Und wie.
"Stolen" hat das ein oder andere Kilo Zucker zuviel abbekommen und versinkt in seinem Schnulzendasein. Derselbe Bonustrack mit Eva von Juli, der einfach mal an das hintere Ende der Tracklist "drangeklebt" wurde, macht das Ganze auch nicht besser. Und auch der Rest der Platte verliert sich in diesem Schema. Wo bleiben die emotionalen Momente und Höhepunkte, wie sie doch früher selbstverständlich waren? Einzig "Don`t Wait" ist äußerst einprägsam und darf getrost den Pokal als Highlight der Platte in Empfang nehmen.
Also falls du das hier lesen solltest lieber Chris Carraba: Besinne dich doch mal wieder auf deine Stärken zurück. Denn mit der Akustikgitarre bist du nicht zu schlagen. Back to Basics. Und zum Teufel mit dem kommerziellen Erfolg.