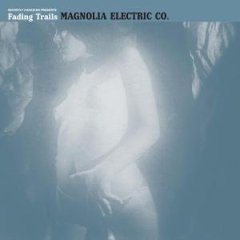 Der gute Jason Molina ist doch ein Schlawiner. Fragt er auf dem letzten Album seiner Band "The Magnolia Electric Co." noch so hilfesuchend "What comes after the blues". Scheinbar wußte er es jedoch schon lange Jahre, falls er mit seinem neuen Werk die Antwort geben wollte. Nichts anderes, als das was er uns schon seit Jahren präsentiert.
Tieftraurige Lieder, mal mit wimmerndem Südstaaten-Howdy-Rock, mal mit minimalistischer Instrumentierung in Form einer Gitarre, die nur 2 Akkorde zulässt, verziert. "Fading Trails", bezeichnender kann kein Albumtitel sein. Trauriger auch nicht. Höchstens die Musik, für die er steht.

"I start looking back for the things I used to live by/If only I could remember them/Even one of them" sinniert Molina vor sich hin. Anscheinend kann er sich wirklich nicht erinnern, dass seine Werke im Grunde im gleich klingen. Talent hat er, ohne Frage, am Ideenreichtum mangelt es jedoch.
Wie könnte man ihm aber böse sein, wenn, kaum nachdem er diese Worte ausgesprochen hat, ein Solo wie in "Little at a time" folgt, das ohne zu fragen von einem Klavier abgelöst wird, das mit zehn Anschlägen pro Minute auskommend, den nächsten Song namens "The old horizon" einleitet, um seine klagende, weinerliche Stimme vollwertig zu unterstützen. Solch eine Atmosphäre aufzubauen gelingt nicht jedem. Hut ab.

"Memphis Moon" ist die typische Hintergrundmusik wenn der Held der Geschichte den letzten Tanz mit seiner Freundin wagt, bevor er in den Krieg ziehen muss. "Don't fade on me" ruft alte Erinnerungen wach. Genau dieses Spiel mit Sehnsüchten und dem Bewußtsein der Vergänglichkeit beherrscht "The Magnolia Electric Co." meisterhaft. Hätte ich es im obigen Absatz nicht schon getan, meine imaginäre Kopfbedeckung würde nicht länger auf der dafür vorgesehenen Stelle verweilen.

Ob diese Art von Musik wirklich diejenige ist, die nach dem Blues kommt, scheint er auch nicht sicher beantworten zu können. Taucht allein das Wort in vier der acht Songs auf. Vielleicht klappts beim nächsten Mal. Wenn nicht, auch nicht schlimm. Ist nämlich egal, wenn etwas wie "Fading Trails" bei der Suche entsteht.
www.songsohia.com