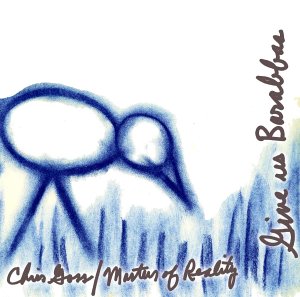 "Give us barrabas" ist das erste Album der Mannen um den sagenumwobenen Kyuss/Qotsa-Produzent Chris Goss, das mir zu Ohren kommt, bei dem nicht nur die Covergestaltung sonderbar anmutet.
Statt den zwangsläufig erwarteten und Stonerrock inspirierten Bildern von Peyotekakteen und Sandstürmen, gibt es für den geneigten Hörer die Ballade von "Jody Frosty", die ins genaue Gegenteil, nämlich in die Iglu und Eskimo bevölkerte Einöde der Antarktis, Melancholie und Schwermut inbegriffen, entführt. Die Frage ist nur, wie bauen die Eskimos so viel Dope an, dass es in ausreichender Menge vorhanden ist, um den Plotzkopp Goss und seine Leute zu einem solchem Album zu inspirieren. Die zwölf Songs bewegen sich zwischen ausgemachten Blödsinn ("Don't get caught by the huntsmens bow") über Kinderliedartige Kreationen ("Off to tiki ti") bis hin zu einer Mischung aus Hippie/Gypsie/Beatles/Rock-Elementen, die nahezu das gesamte Album regieren.
Sicherlich nichts für Leute, die bei jedem Takt ihre Nackenwirbel brechen hören wollen, aber garantiert eine abwechslungsreiche Angelegenheit zum allgemeinen Gitarrenrock. Experimentell und unkommerziell, daher sicherlich eher massenuntauglich, aber ein besonderer Leckerbissen für all diejenigen, die auch gerne andere Musikrichtungen hören, ohne gleich das gesamte Genre wechseln und bei jeder passenden und unpassenden Gelegenheit rumtönen zu müssen, wie aufgeschlossen man stilfremden Dingen ist. Diese Platte ist genau wie der Stoff, der die Inspiration zu den Kompositionen lieferte. Bewusstseinserweiternd.