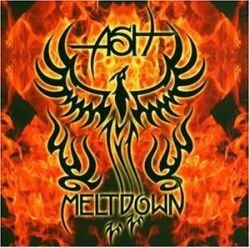 Richtig aufmerksam wurde ich auf Ash nach dem 2001er Album "Free All Angels". Dieses Album, was mit Bombenhits wie "Burn Baby Burn" oder "Shining Light" ausgestattet war, gab Ash den Ruf Bubblegumpoppunkrock zu betreiben. Aber was solls? Es war ein wirklich gutes Album.
Jetzt ist der Nachfolger mit dem Namen "Meltdown" im Laden zu erstehen. Schon das nicht wirklich gelungene Cover lässt Ahnungen aufkeimen, dass Ash jetzt auf einmal evil geworden sind. Überall Flammen und ein Tribal in der Mitte. Böse, Böse. Und wenn man das Album einmal durchgehört hat wird einem klar, dass die Band um Tim Wheeler sich verändert hat. Sie hat wohl mit Mr. Metal gefrühstückt oder mit harten Gitarrenriffs geduscht.

Ash sind bedeutend härter geworden, ob das zu ihnen passt oder nicht ist wie so vieles Geschmackssache. Vor allem der Titelsong "Meltdown", "Detonator", "Out of the Blue" und "Clones" sind der Inbegriff des neuen Musikstils von Ash. Aber ganz und gar haben sie sich der harten Musik dann doch nicht verschrieben. Auch das neue Album wartet mit zuckersüßen Melodien und Ohrwurmrefrains auf.
Mit "Starcrossed" hat Tim Wheeler eine tolle Halbballade geschrieben, die sofort ins Ohr geht und der ideale Soundtrack für eine Kussszene in Dawsons Creek oder O.C. California wäre. Bei "Won´t be saved", "Evil Eye" und "Orpheus" kommen die wahren (alten) Stärken von Ash wieder zur Geltung. Melodien für den Sommer und für die Sonne. Aber leider kommt diese Stärke im Verhältnis zum letzten Album viel zu selten zur Geltung.

Ash fahren mit diesem Album nach mehrmaligem Hören doch recht gut, aber sie sollten doch an der nächsten Ausfahrt Richtung Bubblegumpoppunkrock wenden. Diese Richtung steht ihnen einfach besser.

Anspieltipps: Won´t be saved, Orpheus, Starcrossed, Evil Eye