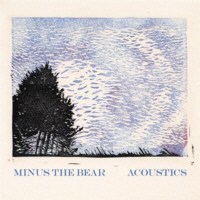 Minus the Bear sind öfter mal für Überraschungen gut. Erst lassen sie das vorzügliche Album "Menos el Oso" von diversen Elektro - Musikern interpretieren und weichen jetzt mit einer Akustik - EP von ihren bewährten Pfaden ab.
Sechs Songs aus diversen Schaffensphasen wurden das neue Soundgewand auf den Leib geschneidert. "Guns and Ammo" gabs noch nirgends vorher zu hören, sowas nennt man in Fachkreisen "Neu". Doch genau wie bei beschriebenem "Interpretaciones" - Album wollen mir die neuen Looks, äh Hears, der Songs nicht wirklich ausnahmslos gefallen.

Bei den langsameren Songs wie etwa "Ice Monster" oder "We're not a football team" geht die Umsetzung vollkommen in Ordnung, orientieren sie sich doch ziemlich am Original. "Pachuca Sunrise" bekommt man weder als "Alias Remix" noch als Akustikversion kaputt. Das Lied bekommt sogar noch nen Zacken mehr Seele.

Tja und dann kommen "Burying Luck", "Knights" und "Throwin Shapes". Drei Lieder, die von ihrem Drive leben, werden von Jake Snider fast schon schafigen Gesang derart runtergedrosselt, das lahme Versionen entstehen.

Versteht mich nicht falsch, würde ich die Originale nicht kennen, dann wären auch diese drei, sehr schöne Lieder. Gerade "Burying Luck", Piano begleitet, ist wirklich gelungen. Nur die Tempo gedrosselte Stimme ist sehr gewöhnungsbedürftig.

Das Tolle an der Akustiksachen ist, dass die Songs in diesen Varianten nun genau in den Situationen funktionieren, die sie wiedergeben wollen. Klare, sternenreiche Nächte an der Küste. Normalerweise unterschreibe vorbehaltlos alles was mir die Bären aus Seattle vorlegen. Bei "Acoustics" hab ich dann auch noch unterschrieben, diesmal nur eben mit ein paar (wenn auch leisen) Wiederworten.

www.minusthebear.com


(US) - VÖ: 07.10.2008 auf Tigre Blanco