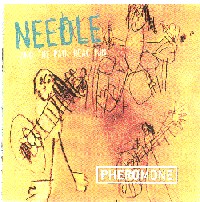 Oder wie es sich anfühlt 100 mal auf die gleiche Folter gespannt zu werden.

Wir bekommen also "pheromone" von der needle and the pain reaction verabreicht, also eigentlich biochemische Kommunikationsstoffe, in unserem Fall aber 14 Tracks, Übertragung ganz gewöhnlich von der heimischen Hifi-Anlage zum Ohr.
Das biomusikalische Lockmittel ist irgendwo zwischen dem großen, ominösen Wort

"Indie" und dem noch größeren Pop zu verorten: Zu wenig schön und/oder simple Melodie, um jedes Ohr zu ködern, aber doch zu gradlinig um hier von verschrobenem Saitengeschrubber á la Modest Mouse sprechen zu können.
Wenn schon keine Auf-den-Punkt-Definition gelingt, wie ist also die Musik?

Die Lieder basieren meist auf netten, eingängigen Grooves und werden dann mit der Gitarre ausgemalt. So schweigt diese gerne mal während der Strophe, um im nächsten Moment krachend auf den sich im Anflug befindlichen Chorus aufmerksam zu machen. Der Gesang kann sich vor dieser gelungenen "jammigen" musikalischen Kulisse getrost verstecken. Die Stimme wirkt kraftlos und deshalb wird gerne auf semi-geflüsterten Sprechgesang (in unüberhörbar hölzernem Englisch) zurückgegriffen. Allein in kräftigeren, lauteren Passagen der Songs, dann auch mit Background-Gesang, überzeugen die Vokalisten. Leider werden die anfangs interessant wirkenden Strukturen (Gitarre raus, Gitarre rein) in jedem Lied auf leicht abgeänderte Weise eingesetzt, so dass sich nach einigen Liedern Langeweile breit macht und die Platte sich so eher zum Ende leiert und eine Lied-Kopie nach der anderen zieht.
Trotz all dem Gesagten, die "needles" legen ein Stück eigenständige Musik vor, dass mancher-ohr-ts auf mehr Gegenliebe stoßen dürfte.
VÖ: 12.11.2007 auf Pretty Pink / Radar