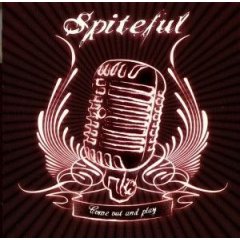 Spiteful
aus Italien sind echte Schlawiner. Angeblich spielen Sie Punk mit Rock and Roll und Pop-Appeal. Mach Dinger, das spielt neben euch wahrscheinlich auch mein Opa unter der Dusche und ungefähr 75% der auf dem Planet Erde beheimaten Gitarrenfraktion. Allgemeiner gehts nimmer.
Um die Verwirrung noch komplett zu machen ballert mir der Opener "Rising from our own ashes" in einer Art Emocore-Light-Version um die Ohren, dass ich noch einmal den Beipackzettel lesen musste, ob sich die gute Promofirma nicht vertan hat.
Eingängig ja, poppig eher nicht. Der Titeltrack "Come out and play" haut in die gleiche Kerbe. Sehr schön. Erinnert entfernt an Boysetsfire.
Der dritte Titel macht dann der allgemeinen Beschreibung schon eher alle Ehre. "Brand New Glory" bleibt ein blasses Stück Musik. So auch viele andere Lieder dieses Albums. Sänger Thomas drückt einfach zu oft auf die Emo-Tränendrüse, was seine durchaus fähige Instrumentalabteilung ausbremst. Doch wehe wenn sie losgelassen,
dann erscheint ein im Original eher lahmes "Incomplete" der Backstreet Boys im rüstigen Rockergewand. Mit Geschrei und bösem Bass hat das Ding wirklich Eier.
Leider nimmt gegen Ende hin das Genöle zu, gewinnt schließlich an Überhand und mündet in zwei Balladen bzw. Akkustikversionen. Braucht kein Mensch.
Zweischneidiges Ding. Laute Dinge yo, ruhige Teile no. Macht allenfalls ein besseres Mittelmaß. Schade eigentlich, liefern doch Spiteful keine schlechte Musik ab.
VÖ: 20.11.2007 auf Antstreet Records