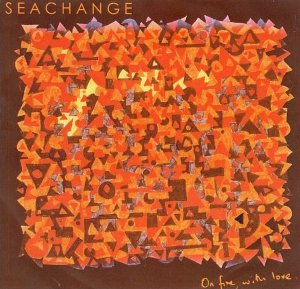 Seachange. Das sind eine handvoll Jungs aus dem britischen Nottingham. "On Fire, With Love". Ihr zweiter Geniestreich. Eigentlich wollten sie ein Doppelalbum aufnehmen. Dieses Konzept wurde jedoch vernünftigerweise verworfen und auch bei der Produzentenwahl sind Seachange nicht ganz entscheidungsfreudig. Insgesamt drei Produzenten wurden verschlissen. Diese Querelen taten der Qualität des Albums jedoch keinen Abbruch. Ganz im Gegenteil.
Get your friends to be in a band with you. Write spaced out folksy psychedelic songs. Play shambolic gigs. Move in together. Practice in cellar. Find out the house is haunted. Freak out. Move out….
Diese Sätze stammen von Seachange selbst. So beschreiben sie sich. Write spaced out folksy psychedelic songs. Zutreffender geht's ja kaum. Aber keins dieser Attribute wird ins Extrem ausgereizt. Folksy. Ja. Aber in Maßen und nicht die ganze Platte durchziehend. Psychedelic. Auch. Aber jedenfalls in einer sanften Form, so dass der Hörer nicht denkt, dass er es mit total abgedrehten Musikern zu tun hat. Also alles im grünen Bereich.
Gleich der Opener "Annie, Tacoma" setzt Maßstäbe und ist das Beispiel für die lautere, nicht ganz so folkige Seite von Seachange. Eingängig, einprägend, einzigartig, emotional und melodiös. In dem gleichen Fahrwasser befindet sich das folgende "Battleground" und "No Backward Games". Und auch die Kehrseite ist mehr als gelungen. Das langsamere, mehr durch Folk geprägte Liedgut, in Form von "Anti-Story" oder "Midsummer Fires" dient als perfekte Lagerfeuermusik, windet sich in die Gehörgänge und will auch nach Stunden noch nicht verschwinden. Einfach hinreißend. Und was will man mehr? Laut und leise in geradezu perfekt dargebotener Form auf einer Platte. Flexibel sind Seachange. Und Flexibilität ist heutzutage ziemlich erfolgsversprechend. Das könnte was werden.
www.seachangemusic.com