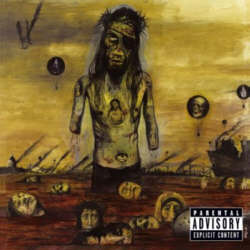 Stell dir vor du bist auf einem Jahrmarkt. Probierst die neue Double-Schrauben-Looping Achterbahn durch, setzt dich in Europas grösste Wildwasserbahn oder probierst den 300 Meter hohen Free Fall - Tower aus. Schliesslich hast du alle Neuheiten durchprobiert und aus nostalgischen Gründen heraus stehst du plötzlich vor dem Auto-Scooter, ringst kurze Zeit mit dir und ziehst dir schliesslich ein Ticket.
Nur mal wieder zu sehen wie das so ist. Du machst es dir in deinem Scooter gemütlich, wunderst dich noch kurz über die sonderbare Bemalung, in Form eines verstümmelten Jesus und die Maschinerie erwacht zum Leben. Und schon trifft dich der erste Wagen ganz fies von hinten, du vollführst eine Drehung und stürzt dich ins Getümmel. Schaltest für die nächsten Minuten dein Hirn aus und hälst einfach nur drauf.

Vermisst hast du das Ganze schon seit Jahren, wärst aber nie selbst auf die Idee gekommen, dir die Chose mal wieder zu geben. Da du aber jetzt wieder mal dabei bist, willst du garnicht mehr aussteigen. Scheiss drauf, eine Runde geht noch.

Ähnlich ist es mit dem neuen Album von Slayer, das auf den bezeichnenden Namen "Christ Illusion" hört. Die Band ist seit über 20 Jahren eine konstante in der Musikszene, liefert ebenso konstant gute und fast gleichartige Alben ab und schafft es paradoxerweise mit ihrem neuesten Werk wieder mehr back to the roots zu gehen, als es bei den beiden Vorgängern der Fall war. Da knüppelt der frisch zurückgekehrte Dave Lombardo wie ein Bekloppter auf seinen Drums herum und die Herren King und Hannemann brechen an der Gitarrenautobahn jegliches Tempolimit und versauen wie es auch schon immer der Fall war, mit ihren eiernden Soli jegliches Lied zum Ende hin. Über allem kreischt Tom Araya zweifelhafte Aussagen ins Mikro, die der Band garantiert in den USA das ein oder andere Gerichtsverfahren einbringen wird. Ob man Texte wie im Song "Jihad" wirklich braucht, sei nunmal so dahin gestellt.

Sonderlich intelligent sind die Lyrics nicht, aber andererseits groovt ("Cult") und rumpelt die Musik so gut, dass man die Texte nicht unbedingt braucht. Ähnlich wie besagter Autoscooter simples Prinzip und grosse Wirkung. Slayer sind Chaos, und das macht nun mal verdammt viel Spass.