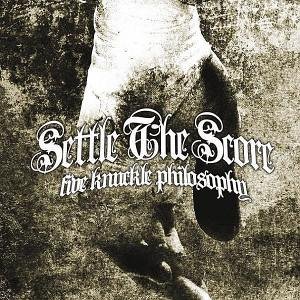 Kaum eine deutsche Band hat es in den letzten Jahren geschafft für derartiges Aufsehen in der europäischen und weltweiten Hardcoreszene zu sorgen.Settle the score haben es geschafft,sich über die letzten Jahre seit ihrer Gründung 1999 eine passable Fangemeinde zu erarbeiten,was sicherlich auch der Lohn für ihre vielen Clubshows und Festivalauftritte ist.
So kann man bereits auf 3 Touren durch Japan,Europa und die Staaten zurückblicken.

Nach ihrem ersten Studioalbum "Royal Flash" von 2002,diversen Splits und einerm Demo haben sie dieses Jahr unter Avalan Records ihnen zweiten Longplayer auf dem Markt gepfeffert und sind dabei ihrem Stil treu geblieben:Straighter 100%-Hardcore mit genialen Moshparts und einem Matthias Nauen,der sich am Mic deftig verausgabt.

Five knuckle philosophy beginnt mit einem kurzen Intro und dem anschliessenden überragenden "Taste my glory",was keine Fragen mehr offen lässt."Integrity" und "Sad but true" folgen in ebenso ransanten Tempo und machen Lust,diese Stücke mal live zu sehen.Mit "Roll the dice" hat man schliesslich ein wenig das Tempo rausgenommen, was dem Stück und dem Album jedoch keinenfalls schlecht tut - für mich einer der besten Tracks der Scheibe.Als abschliessendes Stück hat man mit "Down for the count" ein auffällig gegensätzliches Werk auf die Scheibe gepackt,mit dem ich persönlich leider nicht viel anfangen kann.
Alles in allem ein sehr gelungenes Werk der 4 Jungs aus Deutschland,welches durchaus Bock auf mehr macht und vor allem den Wunsch nach einem Livebesuch größer werden lässt!Sie haben den Hardcore zwar nicht neu erfunden,müssen sich jedoch neben Bands wie Scarface oder Backfire auf keinen Fall verstecken!
Anspieltipps: Taste my glory,Integrity,Down and out,Roll the dice.
www.settlethescore.de