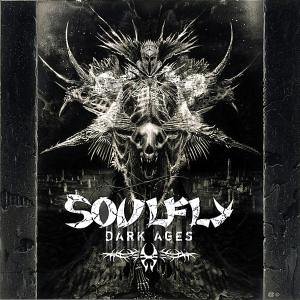 Soulfly, Soulfly und nochmal Soulfly. Anderthalb Jahre nach "Prophecy" folgt nun The dark ages, welches wesentlich abwechslungsreicher als sein Vorgänger dahergeschreddert kommt. (Soulfly bewegen sich mit jedem Output immer auf einem recht hohen Niveau, deshalb sind alle Meckereien anders zu bewerten, als bei anderen Bands).
Wie man es so schön an den Zahlen hinter den, nach dem Bandnamen betitelten, Instrumentalen ablesen kann, befinden wir uns beim fünften Album in der Post-Sepultura-Phase und was nach dem zweiten Album immer mehr nachlies, die berühmt berüchtigte Experimentierfreudigkeit von Kopf Max Cavalera, ist im Jahre 2005 wieder erwacht.

Diesmal gibt es, getreu dem Titel, eine Menge was den Brasilianern auf den Senkel geht, und dementsprechend geht es nicht gerade zimperlich zur Sache. The dark ages scheint ein verlorengeganges Bindeglied zwischen "Arise" und "Chaos A.D." zu sein. Geknüppel und Getrashe vom feinsten, dazu die brutalsten Gegrunzer seit dem "Procreation of the wicked"-Cover. Und dennoch wird das Rad der Zeit nicht zurückgespult, finden sich doch immer wieder liebevolle (oder vielleicht auch hassvoll) Details, die beweisen, dass da noch einiges geht.

So beschliesst sich beispielsweise "Frontlines" nach einem tonnenschweren Monsterriff mit einer Sequenz aus akkustischen Gezupfe und Helikoptern, die Erinnerungen an "Platoon"-ähnliche Kriegsfilme herausbeschwört. Der "Riotstarter" hört sich stark nach Prodigy!!! an und das überflüssige und industriallastige "(The)March" kokettiert mit den fast vergessenen "Nailbomb". "Innerspirit" wird man demnächst in mancher Rock-Disko wiederfinden und das bereit angesprochene "Soulfly V"-Instrumental platziert sich nun auf Platz eins der Soulfly-Instrumentale-Chartshow.

Hammerbrett, abwechslungsreich, roh und trotzdem modern. Interessant.