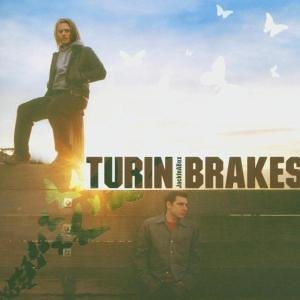 New Acoustic Movement - Quiet is the new loud. Zwei Phrasen, die mit den ersten beiden grandiosen Alben von Turin Brakes entstanden sind. Das ganze als neue Bewegung zu beschreiben erschien übertrieben. Aber es suchte bis dato seinesgleichen.
Zwei melodieverliebte Briten plus ihre Akustikgitarren ergibt Folk-Pop mit Tiefgang vom Feinsten. Stille Wasser sind eben tief oder in der Ruhe liegt die Kraft - nochmal fünf Mark ins Phrasenschwein.

Nun lassen sie also ihr drittes Album aus dem Kasten oder besser gesagt aus dem Keller. Denn sie richteten sich in London in einem Keller ein Aufnahmestudio ein und spielten dort in trauter Zweisamkeit das neue Album ein. Ohne störende Einflüsse von außen. Und JackInABox fängt da an, wo Ether Song aufgehört hat.

"They Can´t Buy The Sunshine" strotzt vor Leichtigkeit. Das folgende "Red Moon" ist dabei eher der Gegensatz. Gale Knights fast weinerliche, aber nie nervige Stimme schafft eine düstere Atmosphäre. Sometimes just letting go is easier / And dead friends can´t come back / They're gone and life goes on. Die Lyrics entsprechen demnach auch der düsteren bis traurigen Grundstimmung des Tracks. "Forever". Hat er dieses Lied seiner zukünftigen Angebeteten geschrieben und ihr unter ihrem Balkon vorgetragen? Scheint so. Eine Ballade über die Liebe und die daraus folgenden Veränderungen. Danach hatte er sie wohl im Sack. Gelungene Liebeserklärung.

Zack-Zack. Und im nächsten Augenblick hat sie ihm wohl auch schon wieder den Laufpass gegeben: Been chasing tears / I'm gonna leave the city / I'm gonna set sail. "Asleep With The Fireflies" nennt sich das Stückchen. Fröhlich, aufheiternd. Lebbe geht halt weider wollen sie uns damit verdeutlichen.

Und so geht es weiter. Man kann sich aus den folgenden Songs rauspicken, was man will. "Last Clown", "Road To Nowhere", "Over and Over" etc. Es sind Lieder über das Verlassenwerden, die Liebe, die Vergangenheit, das Schicksal. Tiefgreifende Lieder, die das exzellente Songwriting von Turin Brakes wiederspiegeln. Dieses Songwriting bekommt eine gelungene musikalische Umsetzung untergemischt, was das ganze zu einer unschlagbaren Mischung vereinheitlicht. Zwei Akustikgitarren, tolles Songwriting – Einfach. Aber auch in einem Fach kann eine Menge stecken. Wo ist das Phrasenschwein?