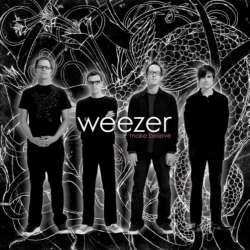 Wie habe ich diese Band und deren Alben geliebt und vergöttert, das blaue Album, auf das ich erstmals 1996 durch das "Buddy Holly" Video aufmerksam wurde rangiert auch heute noch in meiner ganz persönlichen Hitlist auf den vorderen Plätzen.
Nachdem 2002 "Maladroit" erschien zeichnete sich ein Stilwechsel an, der bei mir und auch scheinbar auch dem grösseren Teil der Weezer-Fans eher kritisch beäugt wurde, was man an den eher miserablen Verkaufszahlen des Albums festmachen kann.

Knapp drei Jahre später versucht es Rivers Cuomo und seine drei Kumpanen erneut, diesmal besinnen sie sich auf scheinbar alte Tugenden, die Single "Beverly Hills" erweist sich musikalisch und auch textlich mit dem Prädikat "typisch Weezer" ausgestattet. Hach, wie schön hätte dieser Sommer sein können, dancing in the moonlight mit der weinerlichen und dennoch gute Laune verbreitenden Stimme des Weezersängers, wenn da nicht noch der grösste Teil des restlichen Albums wäre.

Nachdem man sich nämlich durch "Beverly Hills" durchgetanzt hat, schläft man erstmal ne Runde beim schnarchigen "Perfect Situation", um dann beim 80er Jahre angehauchten "This is such a pity" total verstört aufzuwachen und sich zu fragen wo die geliebten Melodien geblieben sind. Der erste wirkliche Lichtblick nach dem Opener kommt mit "We're all on drugs" erst in der Mitte des Albums sprich dem sechsten Track. So stelle ich mir Weezer anno 2005 vor, die alte Ohrwurmigkeit mit zeitgemässen Sound, wenn alle Songs so wären, dann wäre "Make believe" wahrlich unbelievable geworden. Ab dann geht es wieder steil bergab "My best friend" geht musikalisch in Ordnung, wenn es nicht vom weinerlichen Billigtext kaputtgemacht würde. Den Rest kann man getrost vergessen.

Was soll man dazu noch sagen, wie singt Rivers in "Haun't you every day". "I don't feel the joy, I don't feel the pain", damit hat er sein neues Werk kurz und prägnant selbst charakterisiert. Schade, wenn man sieht, dass eine ehemals so gute Band in die Zweitklassigkeit abrutscht, obwohl man anhand einiger weniger Beispiele sieht, dass sie es eigentlich immernoch können, nämlich einem ein Lächeln ins Gesicht zu zaubern.