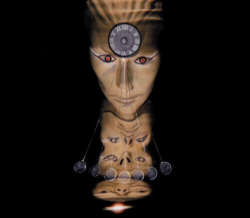 Wer kennt sie nicht, diese grossen Packungen mit verschiedenem Ballerkram, die man immer kurz nach Weihnachten in den Läden kaufen und dann schliesslich zum Jahresende in den Äther blasen kann? Genauso vielfältig wie diese "Familienpackungen" verhält sich auch das neue Album von System of a down, dass im Grunde nur die erste Hälfte ist und sich mit dem im Herbst erscheinenden "Hypnotize" vervollständigt.
Zündet man anfangs gemächlich die erstbeste, zufällig heraushängende Zündschnur des gesamten Kastens an, hat man nur kurz Verschnaufpause (Soldier Side - Intro) bevor die Chose in die Luft geht (B.Y.O.B) und zwar um einiges lauter als erwartet. Zwar befinden sich in der Packung mehr dicke Böller namentlich "Metal-Riffs", "Double-Bass" und "High-Speed" genannt, doch finden auch die Kuschelmäuschen ihre Wunderkerzen (Lost in Hollywood). Auch haben sich die Feuerwerker nicht darauf beschränkt alles möglichst laut zu gestalten, sondern sorgen auch mit einem reichlichen Farbenspiel (Polkaeinlagen, Kastagnetten, abendländisch angehauchte Gesangslinien) für eine Menge offene Münder und manches Anerkennendes "Ooooh" oder "Aaaaah" beim Zuschauer.

Also jetzt mal im Ernst, was die vier Armenier da veröffentlicht haben, hätte ich ehrlich gesagt nicht mehr von ihnen erwartet. Erst dieses armselige "Steal this Album" raushauen und dann drei Jahre später aus der Versenkung auftauchen und so ein Brett abliefern. Könnten sich viele Bands ne Scheibe von abschneiden.

Textlich wie musikalisch gibts direkt mit der sozialkritischen Faust in die Fresse. Das Besondere daran ist, dass sich die politisch engagierten Buben die Zeit genommen haben, die Musik genau an die Texte anzupassen, was zu einer höchst dynamischen Mischung führt. So erklären sie einem gleich im Opener "everybody dancing in the desert, blowing up the sunshine", vorgetragen in einem locker-leichten Sommerrefrain. Dass damit der Irakkrieg aufs Korn kritisiert wird, erfährt man dann halt eher nebenbei in den Aggro-Strophen. Anderes Beispiel: In "Radio/Video" erzählt ein sichtlich verstörter und überzeugter Sänger, dass er eigentlich keine Angst haben braucht, da ja "sweet Danny and Lisa" da sind um ihn zu retten.

Fazit: Wer Bock auf originelle, harte Musik hat und eher auf das erste SOAD-Album als auf "Toxicity" stand, der sollte sich das Teil echt zulegen. Musikalisch echt ein Meisterwerk. Bin echt auf "Hypnotize" gespannt, dass sich jetzt aufgrund seines Zwillingsbruders echt was einfallen lassen muss, um noch besser zu werden.