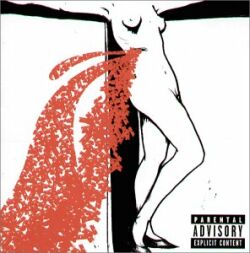 Nach 2 Jahren des Wartens ist es mal wieder soweit. Die "Distillers" aus Australien schmeissen ein neues Album auf den Markt. Mit "Coral Fang" landen sie erneut einen Volltreffer und zeigen, dass man auch trotz weiblicher Frontstimme durchaus enorm rocken kann (was wir nicht erst seit "Walls of Jericho", "Tsunami Bomb" und "Hole" wissen...).
Brody Dalle (zur Zeit liiert mit keinem Anderen als Josh Homme von "Queens of the stone age") zeigt auf 11 Tracks, dass ein flotter 4-er ein durchaus starkes Stück Musik hinlegen kann, auch wenn "Coral Fang" einen nicht mehr einen so starken "punkigen" Charakter hat wie der Vorgänger "Sing sing death house". Unter den 11 Liedern reihen sich nun auch zunehmend ruhigere Stücke ein, welche jedoch auf keinen Fall negativ ins Gewicht fallen. "Die on a rope" und "Dismantle me" sind definitv die rockigsten Stücke des Werkes, während die Videoauskopplung "Drain the blood" auf jeden Fall ein derber Tanzflächenschlager ist.
"The Gallow is god" und "The hunger" lassen zwar den Distillers-Punk von "früher" vermissen, jedoch lassen diese beiden Tracks ebenfalls keine Fragen mehr offen. Mir selbst gefiel dieses Album von Anfang an verdammt gut!Brodys Stimme klingt asi und agressiv - jedoch dürften Diehartfans und Schätzer des ersten Albums durchaus enttäuscht von dem etwas "poppigeren" und "sterileren" Album sein. Die oft benutzte 3 - bis 4 - Akkordreihenfolge zeugt zwar nicht von großem Einfallsreichtum aber die Melodien sind dafür eingängig und spassig anzuhören.
Abschliessend lässt sich sagen, dass "Coral Fang" ein auf jeden Fall gelungenes Werk darstellt, was für jeden Liebhaber guter Punkrockmusik ein Muss darstellt, insofern er die eher ungewohnte präsente Stimme einer Frau zulässt...