Frankfurt am Main hat ein neues Baby.
Dieses Jahr fand zum ersten Mal im Stadtteil Rödelheim das siebentägige
Big-Bum Chak – Festival
statt, welches zahlreiche Bands aus dem In- und Ausland vereinte und gemeinsam auf die Bühne bat. Zudem stand das BBC als Vorbote einer Konzertreihe in den Hazelwood-Studios, die ab nun jeden Freitagabend ein Konzert in ihren heiligen Hallen präsentieren werden. Benzol war für euch an zwei Tagen des Festivals vor Ort und schickt sich an, in Folge das Erlebte an euch heranzutragen.
Donnerstag: 24.09.2009 ---- Pillow Fight Club/Spurv Laerke/ Morning Boy -----
Die Hazelwood Studios sind gar nicht so leicht zu finden. Da das nach Industriegebiet anmutende Gelände rund um die Studios mal schnell zum Irrgarten werden kann, trafen wir gegen 8 Uhr mit einer leichten Verspätung und minimal erhöhtem Frustrationspegel am Ort des Geschehens ein. Die ersten Besucher schienen wir dann jedoch trotzdem zu sein und so blieb genug Zeit sich einmal einen Ersteindruck vom Ort des Geschehens zu machen. Sehr angenehme und ungewöhnliche Atmosphäre, die die Hazelwood Studios bereitstellen: Die Zuschauer befinden sich quasi in dem Raum, in dem Bands ihre Alben einspielen und dieser wiederrum ist schick eingerichtet. Getrennt von einer Glasschabe befindet sich direkt nebenan der Regieraum, der zusätzlich noch mit einigen Lavalampen bestückt ist und einem steifen Arbeitsklima somit die Luft aus den Segeln nimmt.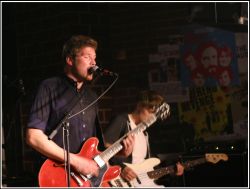 Nachdem ich die Jungs von
Morning Boy
zum Gespräch bitten durfte (welches in wenigen Tagen hier in abgetippter Form zu sehen sein wird),
standen eben diese kurze Zeit später auf der Bühne und gaben einen Querschnitt ihrer bisherigen Werke zum Besten. Vor allem die neuen Stücke klingen beatlastiger und wirken in ihrer Atmosphäre verdächtig wie die Musik von Joy Division – keine schlechte Wahl also. Gespickt mit einigen älteren Hits der
For us the drifters, for them the bench
-EP war die dreiviertel Stunde gut gefüllt und die Resonanz des Publikums gab den Jungs durchaus recht. Bemerkenswert hierbei auch ein wichtiger Punkt, der sich durch das ganze abendliche Programm ziehen sollte: Der Sound war für Clubs in dieser Größenordnung überdurchschnittlich gut. Lediglich am Licht lässt sich noch etwas arbeiten. Die hektischen Wechsel machten die Shows, jedenfalls für mich, teilweise ein wenig (unnötig) anstrengend. Aber alles halb so wild.
Nach einer 15-minütigen Umbaupause standen mit
Spurv Laerke
schließlich die erste hauseigene Hazelwood-Band aus (ich glaube größtenteils) Dänemark auf der Bühne, die mit ihrer Musik phasenweise stark an Metric aus Kanada erinnerten. Frontsängerin Kristina Kristoffersen glich mit ihren roten Haaren äußerlich zwar nicht übermäßíg der Metric-Frontfrau Emily Haynes, jedoch kam sie in Punkto Mimik, Gestik und vor allem Gesang stark an das kanadische Pendant heran. Wie dem auch sei: Sehr ansehnlicher Auftritt des Fünfers und die geforderte Zugabe zum Ende hin wurde noch einmal mit Aufschlag belohnt. Das Debütalbum
On the brink of the big otter
der Band ist ab Ende Oktober hier zu bekommen - und auf ihren Konzerten sogar jetzt schon.
Reinhören
lohnt sich auf jeden Fall!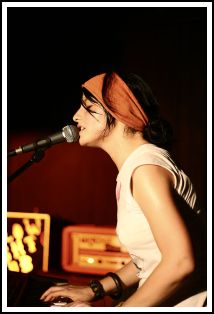 Den Abschluss als Headliner machte schließlich mit
Pillow Fight Club
die zweite Hazelwood-Band des Abends. Diese haben – ähnlich wie Spurv Laerke – vor Kurzem ihr neues Album fertiggestellt und es ebenfalls an diesem Abend zum Kauf angeboten. Live gab es dementsprechend auch nur neues Material auf die Ohren. Die Band spielte es fast gänzlich ohne Stockfehler vor und der Ersteindruck des Albums hinterließ einen fast durchweg guten Nachgeschmack. Die durch den Rauch und die fehlende Belüftung entstandene Hitze machte den vier – ähnlich wie dem Publikum – ordentlich zu schaffen und so wurde nach etwa einer Dreiviertelstunde mit
Nova
lediglich ein älteres Stück als Zugabe durch die Boxen gejagt. Ein gewohnt souveräner Auftritt der Damen und Herren und für mich ein absolut ordentlicher Einstand in den neuen Hazelwood-Studios. Eine Bemusterung zu ihrem neuen Longplayers
About face and other constants
findet ihr in Kürze hier bei uns.
Sonntag: 27.09.2009 -- B.E.E.S./Kenneth Minor/Major Parkinson/Cargo City --
Im fernen Rödelheim luden die Hazelwood Studios zum letzten Festivaltag ihres, mit einem extrem feinen Line-Up gesegneten, Big Bum Chack - Festivals. Die Studios selbst waren Clubneuland für mich und nach einigen, dank eines defekten Navis, Umherirrens konnten wir einen Parkplatz direkt vor der Tür ergattern.
An der Kasse erfuhren wir, dass wir anscheinend schon längst drinnen zu sein schienen. Mit einem Kommentar des Kassenmanns "Glaub ich nicht, sind noch nicht so viele Leute da" durften wir letztendlich doch passieren. Die Studios selbst sind eine sehr sympathische Location. Klinkersteine und Veranstaltungsposter an den Wänden. Links von uns flimmern die letzten Hochrechnungen der Bundestagswahl im Breitwandformat. So richtig viel los ist wirklich noch nicht, so um kurz vor acht. Naja, wird schon noch kommen. Und richtig, so langsam füllen sich die doch eher beengten Hallen. Trotz weit geöffnetem Fenster steigen die Temperaturen auf hochsommerliches Niveau. Da auch geraucht werden darf, dauert es nicht lange und die Luft ist zum Schneiden dick.
Die
B.E.E.S.
eröffnen den Abend mit einer Mischung aus Folk und gemässigtem Rock verfeinert mit einer Menge experimentellen Passagen. Backgroundsängerin Eva
Müller entpuppt sich als Multiinstrumentalistin. Bei "Physical Lie" stolpert sich ein Akkordeon durch das Lied. Bei "Nobody Knows" ist es eine Mundharmonika. Gitarre, Ukulele oder Keyboard. Alles kein Problem für die Dame am linken Rand des Blickfelds. Sänger Benedikt Baum, der nebenbei u.a. auch Sänger/Bassist bei "Low 500" ist, hat sichtlich Spaß an diesem Abend. Der Funke springt aufs Publikum über und aus andächtigem Nicken wird anerkennendes Johlen. Nach einer knappen Stunde und einer Zugabe müssen die B.E.E.S. leider die Bühne räumen. Gute, was rede/schreibe ich da, nein sehr gute Band.
Mittlerweile lief der Schweiss aus jeder erdenklichen Pore und wir suchten erstmal Schutz im Treppenhaus, damit die dort anwesenden auch etwas von unserem Duft der zwischen Sportstunde und Kneipenabend tendierte genießen konnten.
Während wir die Luft verpesteten, spielen sich drinnen
Kenneth Minor
warm. Zwar lichten sich die Reihen hier ein bisschen, schlechte Musik hört sich aber dennoch anders an. Einzuordnen sind ist die Deutsch-Amerikanische Band genau wie ihre "Vorband" im Bereich des Folk. Dennoch sind beide Bands nicht wirklich miteinander vergleichbar. Während die B.E.E.S. auf einen hypnotischen, schon fast beschwörenden Sound setzen, kommen uns bei Kenneth Minor Saloonszenarien in den Sinn. Fast schon real sehen wir betrunkene Cowboys durch den Saal tanzen und Biergläser von den nicht vorhandenen Klavieren schießen.
Feine und überaus beschwingte Musik. Außer leichten technischen Problemen, die vom Gitarristen mit einer Michael Jackson Imitation humorvoll überbrückt werden, liefern die Jungs einen ziemlich guten Auftritt ab.
Tja, und dann schlug das harte Los des Nutzers von öffentlichen Verkehrsmitteln zu. Die ewige Antisympathie zwischen Frankfurt und Offenbach, die sich auch in den Fahrplänen von Bus und Bahn wiederspiegelt, führte dazu, dass wir nach Kenneth Minor das Festival verlassen mussten und so Major Parkinson und Cargo City verpassten.
Abschließend bleibt mir nur zu sagen, dass die Hazlewood Studios ordentlich was aufgefahren haben, um das Festival zu einer großen Nummer werden zu lassen. Hut ab im nächsten Jahr sind wir gerne wieder dabei.