Konzerte an Sonntagabenden sind für viele Bands eine im Grunde genommen ziemlich frustrierende Angelegenheit. Clubkonzerte finden nicht selten in einem mehr als familiären Rahmen statt, da manch einer seinen Arbeitskollegen oder gar dem Chef am Montagmorgen nicht mit verräterischen Augenringen begegnen möchte. Das Konzert der Fake Problems im Wiesbadener Schlachthof war mal wieder so ein Fall.
Im Vorfeld stand aber erst einmal ein Interview mit Sänger Chris an, in dem er mir ein wenig über die kommenden Pläne seiner Band erzählen konnte (das Ergebnis ist
hier
zu sehen.). Sehr sympathischer Typ, aber leider auch kein Mann der großen Worte. Letzteres könnte durchaus ein Resultat des vorherigen Abends gewesen sein, an dem die Band aus Naples (Florida) in Leipzig gastierte und dort vor etwa 500 Zuschauern im Vorprogramm von Chuck Ragan aufspielen durfte. Die Freude über die großartige Resonanz des Publikums, gepaart mit dem Geburtstag von Gitarrist Casey führte wohl dazu, dass man ein wenig die Zügel aus der Hand gab und das ein oder andere Bierchen zu viel trank. Es sei ihnen gegönnt.
Als mit Nein, Nein, Nein gegen 21 Uhr der abendliche Support auf der Bühne stand, zeichnete sich das Kontrastprogramm zu Leipzig bereits ab. Gerade einmal 17 Zuschauer hatten sich vor der Bühne eingefunden und im Laufe des Abends sollte auch keiner mehr dazukommen. Die lustigen Jungs aus Mönchengladbach schaffen es dennoch die menschenlose Räucherkammer mit deutschsprachigem Punkrock zu füllen und am Ende war sogar der vom Publikum geforderte Zugabenblock drin.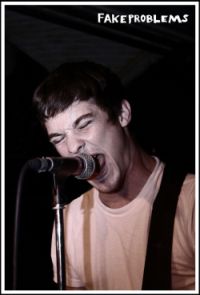 Die
Fake Problems
kamen schließlich gegen 22 Uhr auf die Bühne und legten mit
1234
, dem Opener ihres aktuellen Albums "It´s great to be alive", ordentlich los. Der Sound passte, die Stimmung war gut und die vier Jungs heizten sich untereinander zusätzlich noch professionell mit einer Pulle Jim Beam ein. Nach knapp 60 Minuten war das reguläre Set (und verstärkt die Hits vom aktuellen Longplayer gespielt), die riesige Flasche fast leer und vor allem Sänger Brian und Gitarrist Casey ordentlich voll. Ausflüge ins Publikum, Späßchen mit den Gitarrenkabeln, kleine Verspieler und erheiternde Ansagen bleiben da nicht aus. Geburtstagskind Casey wurde mit Geburtstagsliedern auf englisch, deutsch und hessisch geehrt und man merkte, dass die Amis auch mit einer solchen Zuschauermenge locker fertig wurden. Die Zugabe wurde mit einem brandneuen und zum ersten Mal live performten Stück eingeleitet, ehe ein nach eigenen Aussagen sehr alter Schinken folgte. Zum Abschluss gaben die Fake Problems in überschwenglicher Alklaune mit
Dammit
noch ein souveränes
Blink 182
-Cover zum Besten, was vom Publikum mit lautstarkem Gesang quittiert wurde.
So endete nach etwa 70 Minuten ein kleines, aber sehr unterhaltsames und gutes Konzert einer Band, von der man in Zukunft hoffentlich noch einiges Hören wird. Spätestens wenn nächstes Jahr das neue Album erscheint und eine Tour durch Europa im Kasten ist, sollte man sich das Ganze nochmal antun. Ehrlich!