Gegen Jahresende hätte man sich beinah einen Drehwurm einhandeln können, so oft tuckerten Mitglieder von Benzol durch die Lande um großartige Konzerte zu erleben. Eines davon: der Auftritt der Ship Thieves inklusive Hot Water Music-Mitglied Chris Wollard im Frankfurter Exzess am 10. Dezember.
Dieser Abend war dann auch mit großen Erwartungen verbunden, hatten doch nicht nur die Ship Thieves sich gegenüber einem phänomenalen Hot Water Music Konzert einige Tage zuvor in Wiesbaden zu behaupten (welches sicher ein enorm großer Anteil der an diesem Abend anwesenden besucht hatte, hier Schreibende natürlich inklusive); auch die Vorband Drag The River konnte mit einer Punklegende in ihren Reihen aufwarten, namentlich Chad Price von All aus Los Angeles. Puh. Ob große Namen allein einen Abend reißen könnten würde sich schließlich zeigen.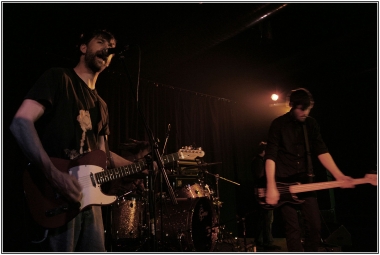 Drag The River also kamen zuerst. Zwei Männer, zwei Gitarren, Americana-Country und Kommentare zur Größe des Frankfurter Flughafens – das ist dann leider auch so ziemlich alles was ich von diesem Konzert mitnehmen konnte. Die dargebotene Musikrichtung gehört nämlich leider nicht zu meinen Steckenpferden und auch wenn ich durchaus Gefallen an dem einen oder anderen Stück fand, so war mir der Auftritt in dieser Form auf Dauer dann doch leider ein wenig zu ruhig und eintönig. Der Rest des Publikums war auch eher verhalten, reagierte nicht wirklich auf Interaktionsversuche des Sängers und man konnte nur hoffen, dass sich die Stimmung im Laufe des Abends noch etwas lockern würde.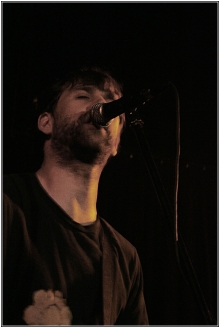 Als dann Chris Wollard und seine Ship Thieves auf die Bühne stiegen und mit einem Druck loslegten der mir trotz Ohrenstöpsel das Trommelfell bedenklich vibrieren ließ, hätte also mal was passieren sollen. Tat es aber nicht wirklich. Obwohl der Raum gut gefüllt war, zeichneten sich die Anwesenden weniger durch Euphorie und Mitgang aus (bis auf einige bierselige Fußballfans die die Umstehenden furchtbar gern zum Pogen animieren wollten). Ob sie einen zweiten Hot Water Music-Auftritt erwarteten? Jedenfalls kann ich mir die mangelnde Begeisterung nicht erklären, hatte doch die Band ungeheure Livequalitäten und vermochte mir so einige Songs, die ich auf Platte noch als recht dünn empfunden hatte, wahnsinnig schmackhaft zu machen; die Lieder kamen unheimlich energiegeladen rüber, auf Platte sehr folkrockig klingende Stücke bekamen in der Livedarbietung teilweise einen ganz neuen Dreh und ein Stück erinnerte mich gar an Tool! Chad Price kam bei einem Track zur gesanglichen Unterstützung zurück, Chris Wollard war wie üblich fröhlich angesoffen (Klischee erfüllt: Check!), den Blickfang auf der Bühne stellte aber wohl eher der Drummer, der wie ein irrer Derwisch seine Becken bearbeitete und dazu die Lockenpracht auf seinem Kopf durch die Gegend wirbelte um bei Spielpausen selig grinsend in die Luft zu starren. Zumindest ihm war eine gewisse Freude bei dem was er tat, anzumerken – nichtsdestotrotz verließen die Ship Thieves nach nicht mal einer Stunde die Bühne ohne dass im Publikum Forderungen nach Zugaben laut wurden.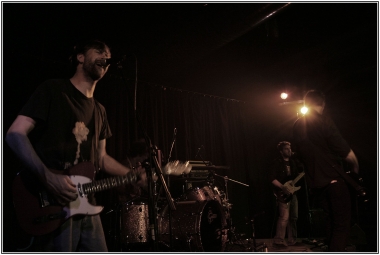 Alles in allem ein eher zwiespältiger Abend und ein klassisches Beispiel dafür, wie mangelnde Stimmung und Atmosphäre ein eigentlich erstklassiges Konzert runterziehen können. Für manche Anwesenden gab es an dem Abend wenigstens noch einen Lichtblick in der Form eines Mitschnitts des legendären mehrstündigen 2007er Chuck Ragan Konzerts im Exzess auf limitiertem Vinyl, das am Ausgang käuflich zu erwerben war. Trotzdem – sollten sich die Ship Thieves noch mal in hiesige Gefilde verirren, möchte man ihnen sehr wünschen dass das Publikum ihnen dann etwas wohlgesonnener gestimmt sein wird. An der Erstband Wollards, wenn man es so nennen mag, mögen sich die Ship Thieves vielleicht nicht messen können, gehen sie doch auch musikalisch in eine andere Richtung, was aber nicht heißt, dass sie weniger zu bieten hätten, schon gar nicht live. Definitiv hätten sie an diesem Abend mehr Würdigung verdient und vielleicht erhält das Frankfurter Publikum ja noch mal eine Chance, das wieder gutzumachen.